50+ Years Heritage

100% Authentic

Australia's No. 1
Multivitamin Brand

Secure Payments
PACKED WITH PROTEIN: Swisse Plant Protein is 100% plant-based protein powder. Contains 24 grams of protein and 4.2 grams BCAA per serving, which is perfect for people seeking active life with effective nutrition.
HEALTHY & NUTRITIOUS: It is blend of pea and brown rice. It also contains essential nutrients and complete amino profile, which helps build muscle, provides faster recovery, increases energy and stamina.
GREAT TASTING FORMULA: Chocolate flavour with amazing taste and zero added sugar. Morever, this product is lactose-free and contains no artificial ingredients. Perfect to add in pancakes, smoothies, milkshakes etc. as pre or post workout fuel.
BETTER THAN WHEY: Made with herbal extracts and digestive enzymes for easy digestion and absorption by the body, without causing any bloating or discomfort
EASY TO CONSUME: Add 1 scoop (30-35 g) in 500 ml of water or your favourite beverage or blend it with fruits and ice.
Manufactured in India
ABOUT SWISSE ME: We create convenient nutrition and beauty solutions for busy people. Our range of tasty and healthy supplements are perfect for life on-the-go with natural ingredients and scientifically proven formulations. We do the research, so you don't have to.
Read More
How To Use
One - two servings a day after or before workout or between meals
Frequently Asked Questions
What is plant protein?

Plant protein uses plant groups as a source of deriving protein. It derives protein from sources such as pulses, tofu, soya, tempeh, seitan, nuts, seeds, certain grains and even peas. Pulses are a large group of plants, which include chickpeas, lentils, beans (such as black, kidney and adzuki beans) and split peas.

is plant protein powder good for building muscle?

Plant protein is effective for muscle growth and building lean muscle, but one needs to ensure that an adequate amount of protein is consumed.

How plant protein powder is made?

It derives protein from sources such as pulses, tofu, soya, tempeh, seitan, nuts, seeds, certain grains and even peas. Pulses are a large group of plants, which include chickpeas, lentils, beans (such as black, kidney and adzuki beans) and split peas.

Can vegan protein powder upset your stomach?

Vegan protein powder may cause slight bloating or indigestion until your gut gets used to it, but it does not have any long-term effects
Backed By Science

Free From Harsh Chemical

Tested For Evidence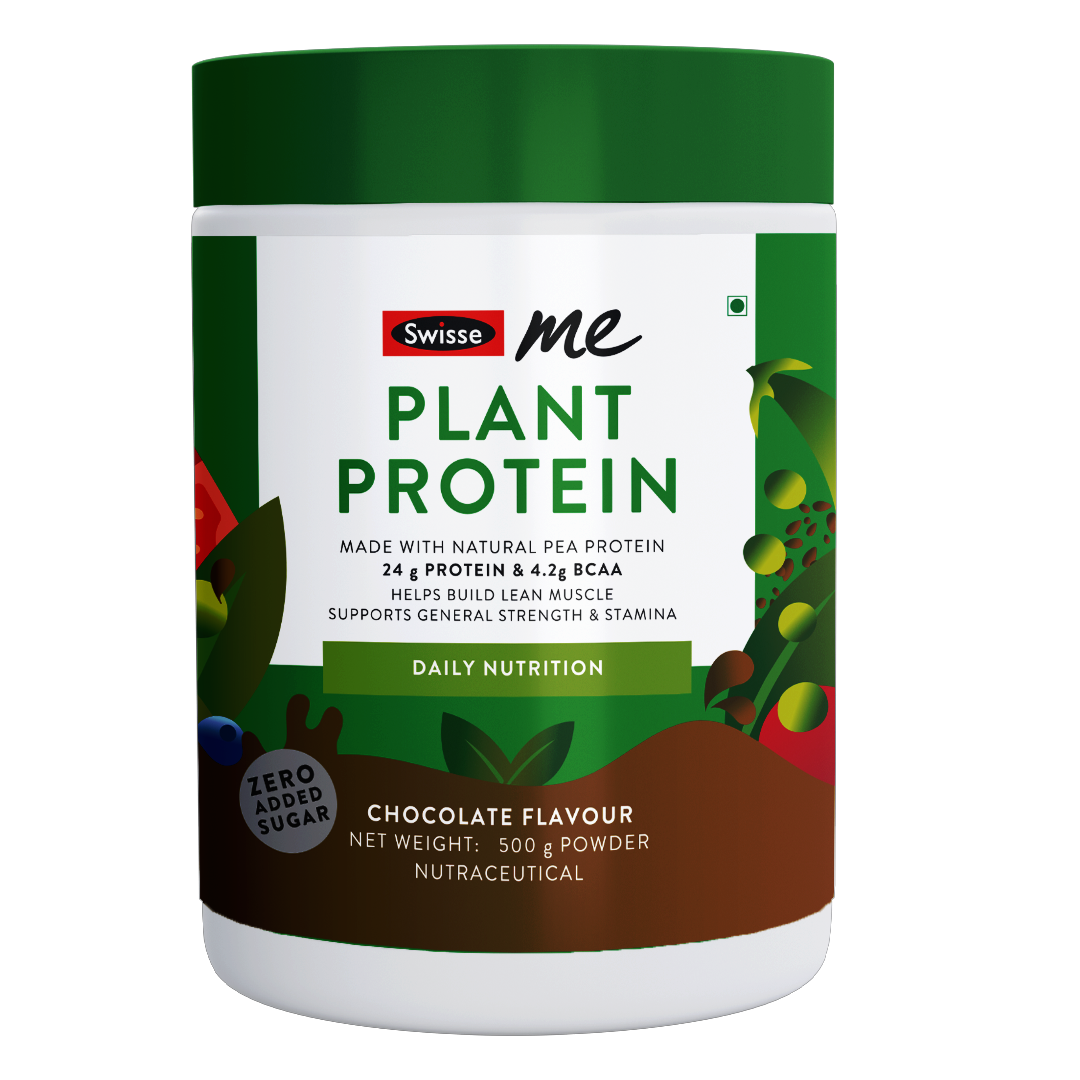 SwisseMe Plant Protein Powder
( 24g 100% Natural, Vegan Pea Protein With Zero Added Sugar , Chocolate Flavour )
MRP: ₹ 1,499 ₹ 899
You Save : ₹ 600