50+ Years Heritage

100% Authentic

Australia's No. 1
Multivitamin Brand

Secure Payments
Active Ingredients:

The Swisse Ultiboost Vegan Calcium + Vitamin D Supplement Tablets consists of the active ingredients, Calcium, Vitamin D3 & Lysine.

Advanced source of Vitamin D, Vegan Vegetarian:

The Vit-D component in Swisse Ultiboost Vegan Calcium+ Vitamin D is made from Lichen Cladonia rangiferina, the most advanced source of Vitamin D, derived from organic plant-based algae. It's a natural form of Vitamin D, free of toxins & other adulterants. The tablets are Vegan Vegetarian.

Hypocalcemia:

Calcium deficiency also known as Hypercalcemia occurs when the blood has low levels of calcium. A long-term calcium deficiency can lead to dental changes, cataracts, alterations in the brain, and osteoporosis, causing the bones to become brittle. Calcium supplementation assists in preventing or in the treatment of osteoporosis. On the other hand, low vitamin D levels have been linked to serious health consequences, including Osteoporosis, Cancer, Depression; Muscle weakness. Research suggests that including Calcium with zinc and magnesium assists in strengthening the skeletal system.

Bone Teeth Health:

Swisse Ultiboost Calcium and Vitamin D tablets help gain bone density & healthy teeth, enhance muscle strength, prevent osteoporosis & improve overall immunity. The tablets are made of Calcium- citrate tetrahydrate form, the purest form of calcium.

Increased Absorption:

Formulated with naturally derived vitamin D3 The Swisse Calcium and Vitamin D tablets contain Lysine, an amino acid that helps in faster absorption of Calcium and promotes absorption and delivery of calcium to the bone. Research shows that Calcium absorption is as important as Calcium consumption

Swisse Vegan Calcium + Vitamin D:

This supplement provides a far advanced formulation of calcium with Calcium citrate tetrahydrate form, with added Lysine, compared to any other supplement sold in the market in the same category.

ADULT DOSAGE:

Two to three tablets daily or as recommended by a healthcare professional. Use product for at least 30 days for effective results. If you are a Pregnant, Lactating mother, or suffering from a specific medical condition, consult your health care professional before use. Calcium requirements may increase based on age, gender, diet, pregnancy, lactation, and post-menopause.
Read More
How To Use
One tablet daily, during or immediately after a meal
Frequently Asked Questions
How to increase calcium in body?

To increase the calcium levels in your body you can increase your consumption of calcium rich foods such as spinach, broccoli, dried peas and beans, kale, collard, dark green leafy vegetables. Vitamin D supplements can also help you increase the absorption of calcium in your body.

When to take calcium tablets?

The best time to take calcium is in the morning post your breakfast. Taking calcium tablets at night can interfere with your sleep. It is recommended to take calcium in smaller dosages for better absorption.

Does calcium tablets increase weight?

No, there is no research that proves that calcium can increase your weight.
Backed By Science

Free From Harsh Chemical

Tested For Evidence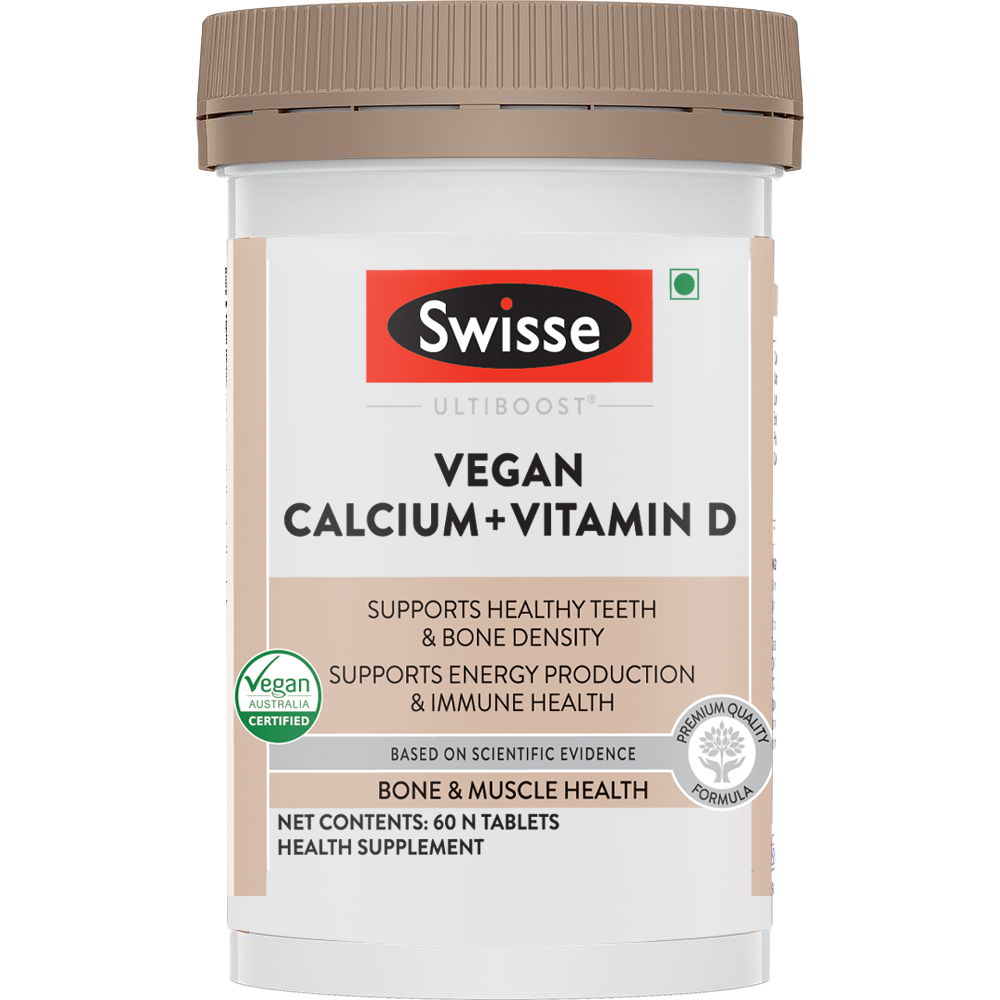 Swisse Vegan Calcium & Vitamin D
( Vegan Calcium & Vitamin D Combination | 60 Tablets )
MRP: ₹ 1,299 ₹ 779
You Save : ₹ 520