50+ Years Heritage

100% Authentic

Australia's No. 1
Multivitamin Brand

Secure Payments
Swisse Multivitamin For Men:

Contains 36 Essential Nutrients:

 

Packed with minerals, antioxidants, herbs, and several vitamins such as Vitamin B complex- B6, B12, Vitamin C, and Vitamin E, these multivitamin capsules can help support your brain, skin, hair, nails, energy, and overall health.   

Multivitamin tablets for men:

 

These multivitamin supplements have been formulated keeping the specific needs of men above the age of 18 years in mind and can help fill in nutritional gaps and support general well-being for a healthy, active lifestyle.  

Health benefits:

 

Zinc helps boost the immune system, while Vitamin C, Vitamin E, and citrus bioflavonoids help protect cells from potential free radical damage. They also contain adaptogens to help the body perform optimally during times of stress.

Adult Dosage:

 

One tablet daily, during or immediately after a meal, or as directed by a healthcare professional.

Storage:

 

Store in a cool, dry place away from sunlight below 25°C.
SwisseMe Kids Multivitamin Gummies:
SwisseMe Kids Multivitamin Gummies are a premium quality, comprehensive formula containing important vitamins and minerals including vitamins C and D, zinc, iodine, folic acid & magnesium.

Made with natural colors and flavors and no artificial sweeteners, these great-tasting gummies are ideal for fussy eaters and growing children on the go.

Why SwisseMe Kids multi gummies are best for your child?

Enriched with essential multivitamins to bridge the nutritional gap
Supports child's healthy growth & development
Unlike syrups & tablets, there is no foul smell or taste!
Natural strawberry flavored gummies
100% vegetarian | No added gelatin
No side effects
Read More
How To Use
One tablet daily, during or immediately after a meal, or as directed by a healthcare professional
Kids Multivitamin: RECOMMENDED USAGE – FOR 5-12 YEARS: One Gummy daily during or immediately after a meal, or as directed by a healthcare professional. Not to exceed the recommended daily usage
Backed By Science

Free From Harsh Chemical

Tested For Evidence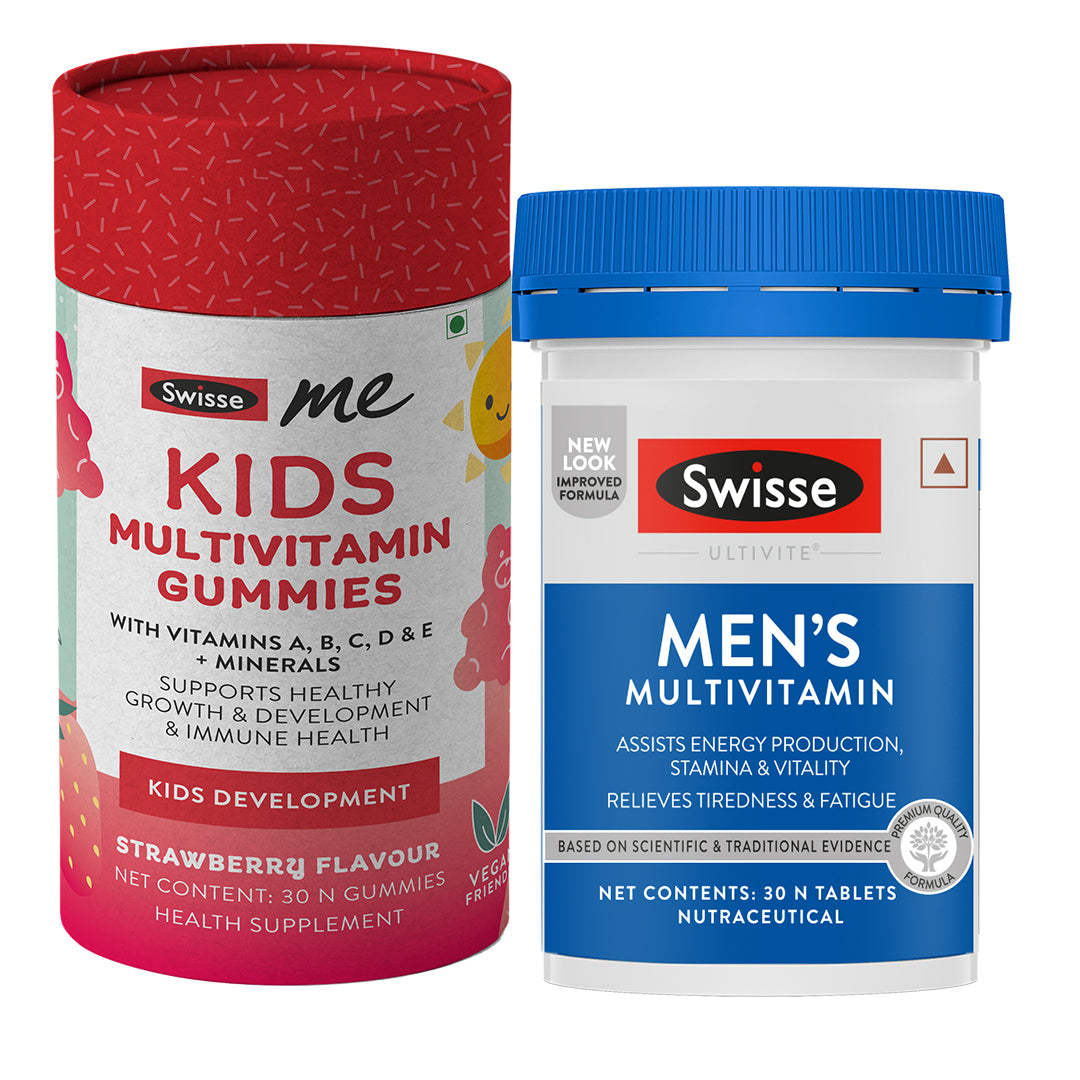 Swisse Multivitamin For Men (30 Tablets) & SwisseMe Kids Multivitamin Gummies Combo
MRP: ₹ 2,098 ₹ 1,259
You Save : ₹ 839