50+ Years Heritage

100% Authentic

Australia's No. 1
Multivitamin Brand

Secure Payments
Swisse High Strength Cranberry:
Formulation

 

These high strength cranberry capsules contain unique powered Pacran, a powdered form of the cranberry fruit that ensures every part of the fruit is used.

Powerful Antioxidant

 

Daily intake of these cranberry capsules help fight free-radical damage to cells through the presence of flavanols, which have antioxidant properties.

Anti-Adhesion

 

These capsules assist in reducing bacterial adhesion to the Urinary Tract.
Adult Dosage: Take one capsule daily from these cranberry supplements during/immediately after a meal, or as directed by your healthcare professional.

Warning

 

If you have any concerns or questions regarding consumption of cranberry pills, ask the advice of a healthcare professional to determine if this is the right health supplement for you.
Swisse Biotin+ Biotin Tablets:

Why Biotin? Biotin, also known as Vitamin H or B7, is a water-soluble B-vitamin involved in a wide range of metabolic processes, primarily related to the breaking down of fats, carbohydrates, and amino acids. Water-soluble vitamins are not stored in the body, so a daily intake is necessary to avoid deficiencies. Biotin deficiency may cause hair thinning, skin issues & fatigue. Brittle nails, skin irritations, hair loss, are common symptoms of Biotin deficiency and can be treated by supplementation.
Recommended Dosage: Daily intake of Biotin is suggested to maintain immunity and skin, hair, and nail health. Swisse Beauty Biotin+ tablets contain the recommended dosage of Biotin and Nicotinamide, Vitamin C, Rose Hip Extract, Chamomile & Zinc. The Biotin+ tablets help in the energy production & formation of fatty acids that nourish skin, hair & nails.  
For Skin, Nails, and Hair Health: Here are some of the benefits of using Biotin: repairs dull skin, repairs brittle nails and make them grow stronger, voluminous & lustrous, thick hair, delays skin aging, makes you look younger and boosts metabolism.
Premium Quality Ingredients for Overall health: Along with Biotin, the presence of Nicotinamide, boosts keratin levels (a protein found in hair, skin, nails) and reduces inflammation, Rose Hip Extract helps fight free radicals, boosts collagen & moisturizes skin, Vitamin C, helps maintain the health and formation of collagen and reduce free radical damage to body cells. Chamomile has nerve soothing & anti-inflammatory properties, and Zinc supports hair cells growth & repair. In addition, the tablets are formulated with iron and milk thistle extract.
Adult Dosage:

 

One tablet daily during or immediately after a meal or as directed by a healthcare professional. Not to exceed the recommended daily usage. Use the product in continuation for at least 30 days for effective result.
Read More
How To Use
High Strength Cranberry: One capsule daily, during or immediately after a meal, or as directed by a healthcare professional
Biotin+: One tablet daily, during or immediately after a meal, or as directed by a healthcare professional
Backed By Science

Free From Harsh Chemical

Tested For Evidence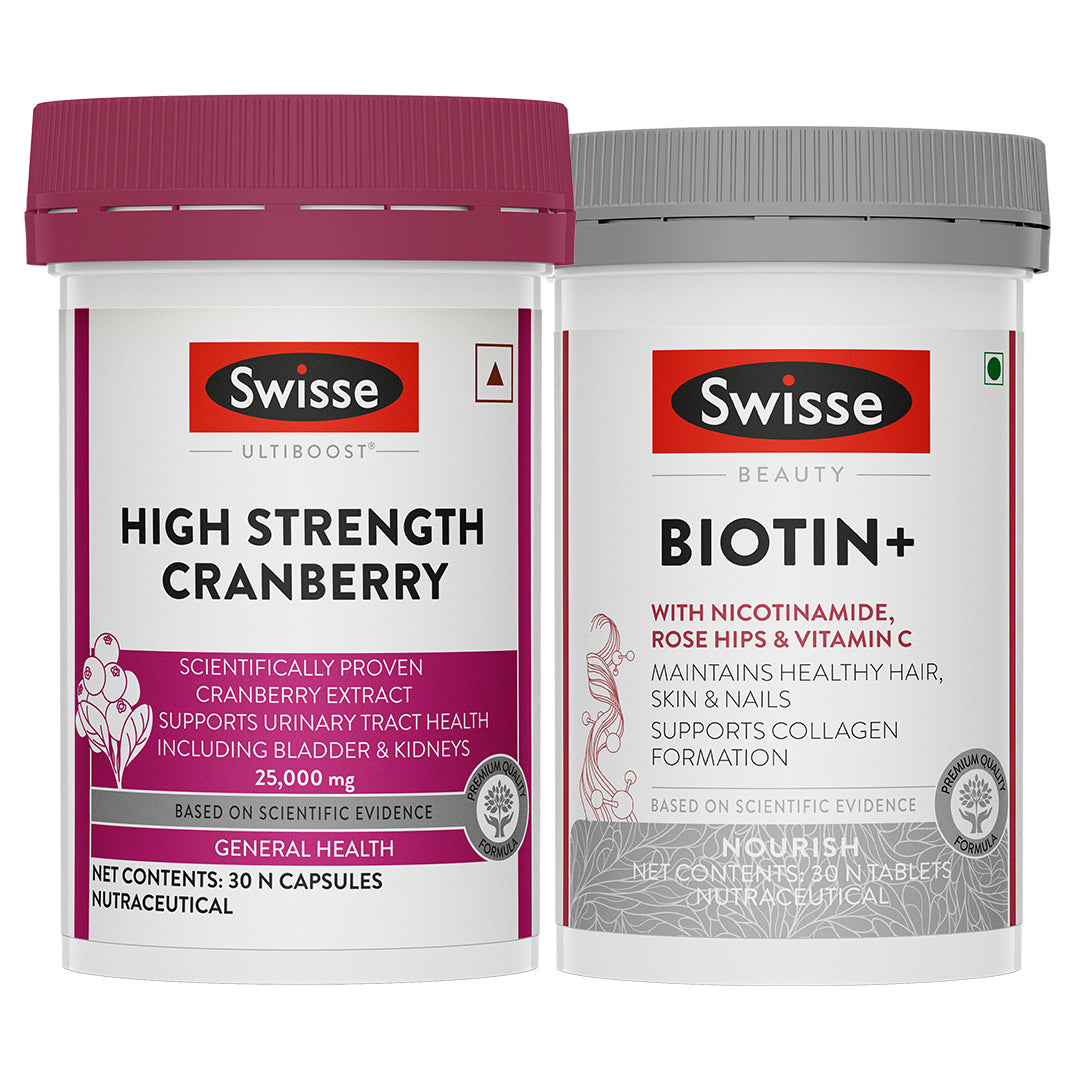 Swisse Biotin+ Biotin Tablets (30 Tablets) & High Strength Cranberry Combo
MRP: ₹ 2,298 ₹ 1,471
You Save : ₹ 827