50+ Years Heritage

100% Authentic

Australia's No. 1
Multivitamin Brand

Secure Payments
Swisse 4X Fish Oil Omega 3:
Contains High-potency Omega 3 fatty acids: Improve general health and reduce joint pain, with 4 times higher concentration of Omega-3 fatty acids. Each capsule contains 4 times more EPA (720 mg) and DHA (486 mg) than a standard 1,000mg fish oil capsule.
Supports during Pregnancy: Along with its anti-inflammatory and joint-health properties, fish oil supplements support the development of a healthy baby, as the developing fetus relies solely on the mother for the supply of Omega-3. Maternal DHA intake contributes to the normal brain and eye development of the fetus and breastfed infants.
Reduced Triglycerides Level : Triglycerides are fat lipids found in blood, high triglycerides lead to higher risk of heart disease, stroke, obesity & metabolism syndrome. Daily consumption of fish oil omega regularly for a month reduces triglycerides level by 20-30% .
Storage: Don't use the cap if the seal is broken. Store below 25° C, away from sunlight.
Swisse Collagen+ Hyaluronic Acid:
Collagen is a major protein found in the dermis of the skin which provides strength and elasticity to your skin. But with age, our body's natural collagen production slows down which causes signs of aging to occur. Swisse Collagen+ Hyaluronic Acid is a premium quality formula with multiple benefits to promote skin health.


Benefits: Improves Skin Elasticity & Reduces Wrinkles' Appearance: Collagen peptides in these collagen capsules supports skin's elasticity and may reduce the appearance of wrinkles and fine lines
Collagen Formation: Collagen is a structural protein that plays a vital role in connective tissue formation for maintaining healthy skin function. Vitamin C in these collagen capsules aid in natural collagen formation and provide antioxidant support.
Hyaluronic acid helps increase skin moisture and helps maintain plump, radiant and hydrated skin
Ingredients: Contains 833 mg of Hydrolyzed Collagen in its purest form, combined with Hyaluronic acid to retain moisture in the skin.
The presence of Vitamin C in it helps promote skin glow, collagen production and skin radiance. Vitamin E is a strong antioxidant which helps prevent skin damage from free radicals, thus protecting skin cells from early aging.
Read More
How To Use
4X Fish Oil - Adult Dosage: One tablet of 4X Strength Wild Fish Oil daily immediately after or during a meal, or as recommended by your healthcare professional. Those needing to improve Triglyceride levels can take two tablets a day. Don't exceed the recommended everyday usage. Pregnant women and breastfeeding mothers can take two capsules a day.
Collagen+ HA Recommended Usage: One tablet daily during or immediately after a meal or as directed by a healthcare professional. Not to exceed the recommended daily usage. Use the product in continuation for at least 30 days for effective result.
Backed By Science

Free From Harsh Chemical

Tested For Evidence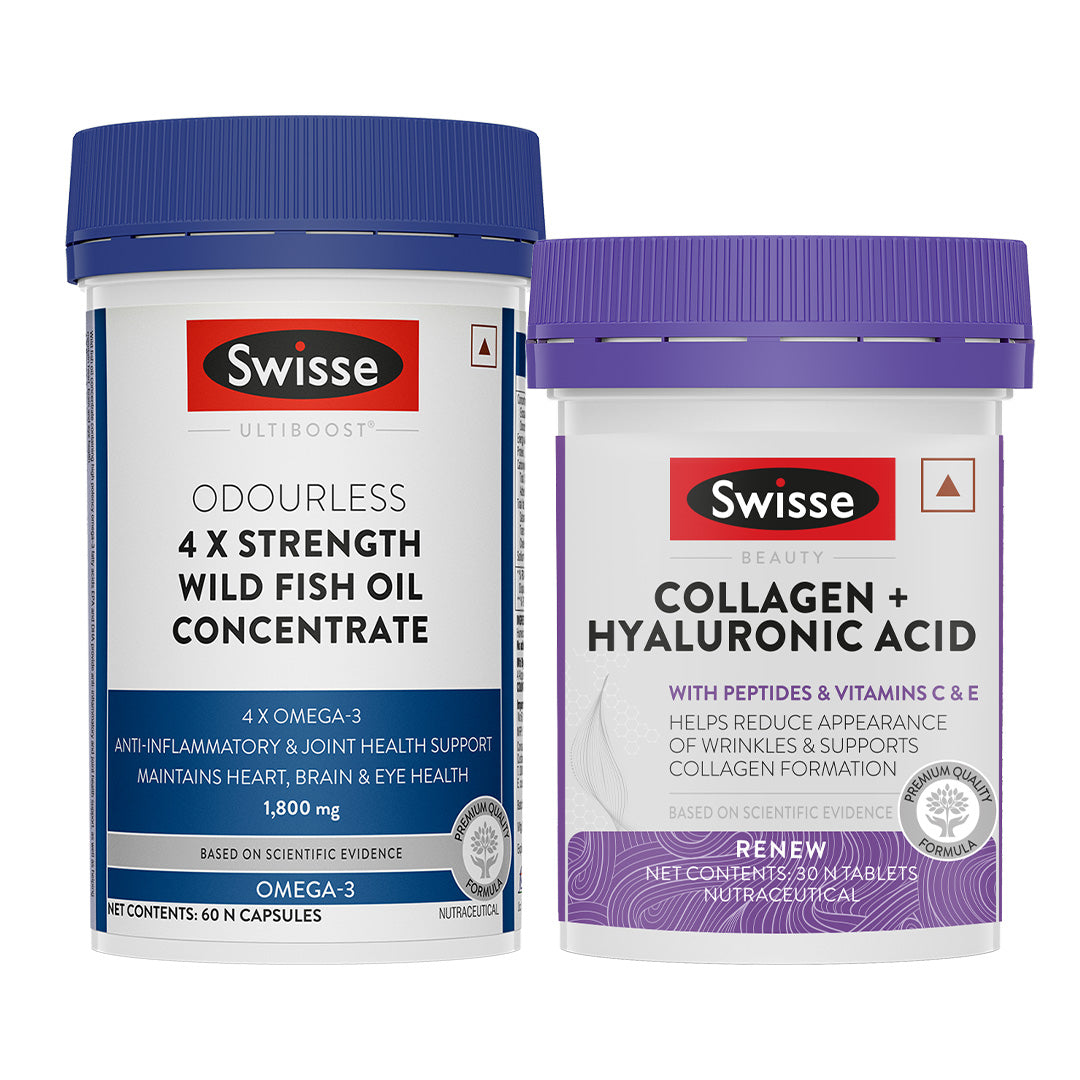 Swisse 4X Fish Oil Omega 3 (60 Tablets) & Swisse Collagen+ Hyaluronic Acid Combo
MRP: ₹ 3,698 ₹ 2,367
You Save : ₹ 1,331