50+ Years Heritage

100% Authentic

Australia's No. 1
Multivitamin Brand

Secure Payments
All Natural High Quality & High Strength: SWISSE ULTIBOOST HIGH STRENGTH MILK THISTLE is a premium quality formula based on scientific and traditional evidences to support liver health and detoxification in a convenient, one-a-day dose Tablet. Contains 500.mg of all natural Silybum Marianum extract per tablet, equivalent to dry fruit 35 g. Swisse Milk Thistle is extracted using ethyl acetate compared to rest of the brands that uses Acetone, a cheaper and toxic way of extraction.
Liver Health & Detoxification: Liver eliminates toxins from body & also plays a central role in metabolism. Milk Thistle capsules for liver,

supports in efficient liver functioning, regeneration & promotes bile flow from the liver, supporting natural liver cleansing and detoxification. It also helps restore natural antioxidant levels in liver.
Digestion & Gallbladder Health: Milk thistle supports not only the liver, but also the gallbladder, bile ducts, and bile flow, which in turn supports detoxification, digestion, and elimination. The main active ingredient, silymarin in the Milk Thistle, is said to increase liver cells normal rate of repair, improving its ability to regenerate.
Antioxidant: Swisse Milk Thistle is a strong natural antioxidant that reduces oxidative stress induced liver damage & free radical damage to cells. Also supports general health and wellbeing.
Pure & Organic Formula: Swisse High strength Milk Thistle Tablets are organic and contains no additives or preservatives. Its non-GMO and gluten and soy free. Just one Tablet provides ample dosage per day for healthy liver functioning. Suitable for Vegetarians & Vegans.
Read More
How To Use
One tablet daily, during or immediately after a meal
Backed By Science

Free From Harsh Chemical

Tested For Evidence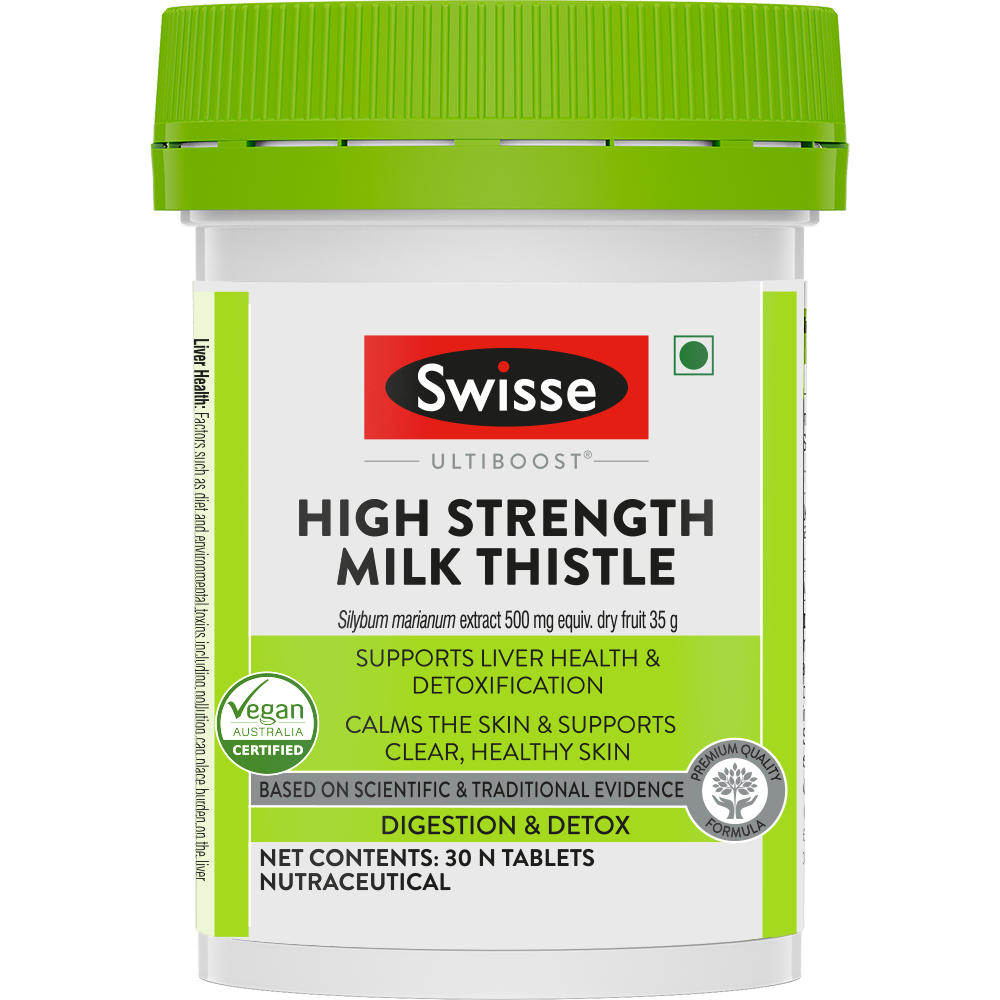 Swisse Milk Thistile
( 35000mg Silymarin Marianum (70:1) | 30 Tablets )
MRP: ₹ 1,099 ₹ 659
You Save : ₹ 440