Heavy metals tested

No added gluten

Australia's No. 1
Multivitamin Brand

Mercury tested

Sourced Sustainably
3 in 1 Formulation of Magnesium, Calcium Vitamin D3:

Most studies have found that a combination of bone health nutrients is superior to any single nutrient alone. Our Swisse tablets provide the best nutritional value per tablet with 3 nutrients power packed in one tablet. Our advanced formulation with premium quality ingredients provides bone, muscle, joint support along with overall Immunity and energy production in one go.

Helps Prevent Osteoporosis Increase Calcium Absorption:

Each tablet of Swisse Magnesium, Calcium + Vit D3 tablet contains 250 mg of Calcium from Calcium Citrate, the purest form of calcium, for bone health. Calcium is an essential mineral for stronger bones, teeth & joints ample level of calcium is said to prevent loss of bone mass and decrease the risk of Osteoporosis. The presence of Lysine in these tablets helps with the faster absorption of calcium.

Bone Muscle Health:

The 3 minerals and vitamins in Swisse tablets, work together to maintain stronger bones & muscles. Calcium works with Magnesium to cause contraction & relaxation of muscles. Vitamin D & Magnesium helps with Calcium absorption. Vit D3 is the best form of supplementation taken, to raise the body's Vit D stores. Vitamin-D is derived from Rangiferina which is free from toxins and other contaminants and is a natural form of D3 that is the same as what our body produces when exposed to sunlight.

Energy Production: 

Magnesium helps to convert food into energy and supports nerve, muscle, and metabolic functions. Each tablet contains 37.5 mg of Magnesium from magnesium citrate, the purest form of Magnesium. Magnesium helps with energy creation, protein formation, muscle movement & Nervous system regulation. Magnesium is also said to reduce stress and improve sleep quality. Research has also correlated diets higher in magnesium to lower incidences of vitamin D deficiency.

Immune Health:

Scientifically formulated with essential minerals & vitamins, Swisse tablets provide bone support nutrients as well as those that aid in nerve, muscle, and metabolic reactions. Vitamin D3 helps protect against autoimmune problems, infections, pregnancy complications, and cardiovascular problems. Vitamin D maintains general health and function to support the body's natural immune response.

Adult Dosage:

One tablet daily or as recommended by the healthcare professional. Use for a continuous period of 30 days or as recommended by a healthcare professional. Don't exceed the daily dosage. If you are pregnant, nursing, or lactating woman or under a specific medical condition, consult your healthcare professional before using the product.
Read More
How To Use
One tablet daily, during or immediately after a meal
Backed By Science

Free From Harsh Chemical

Tested For Evidence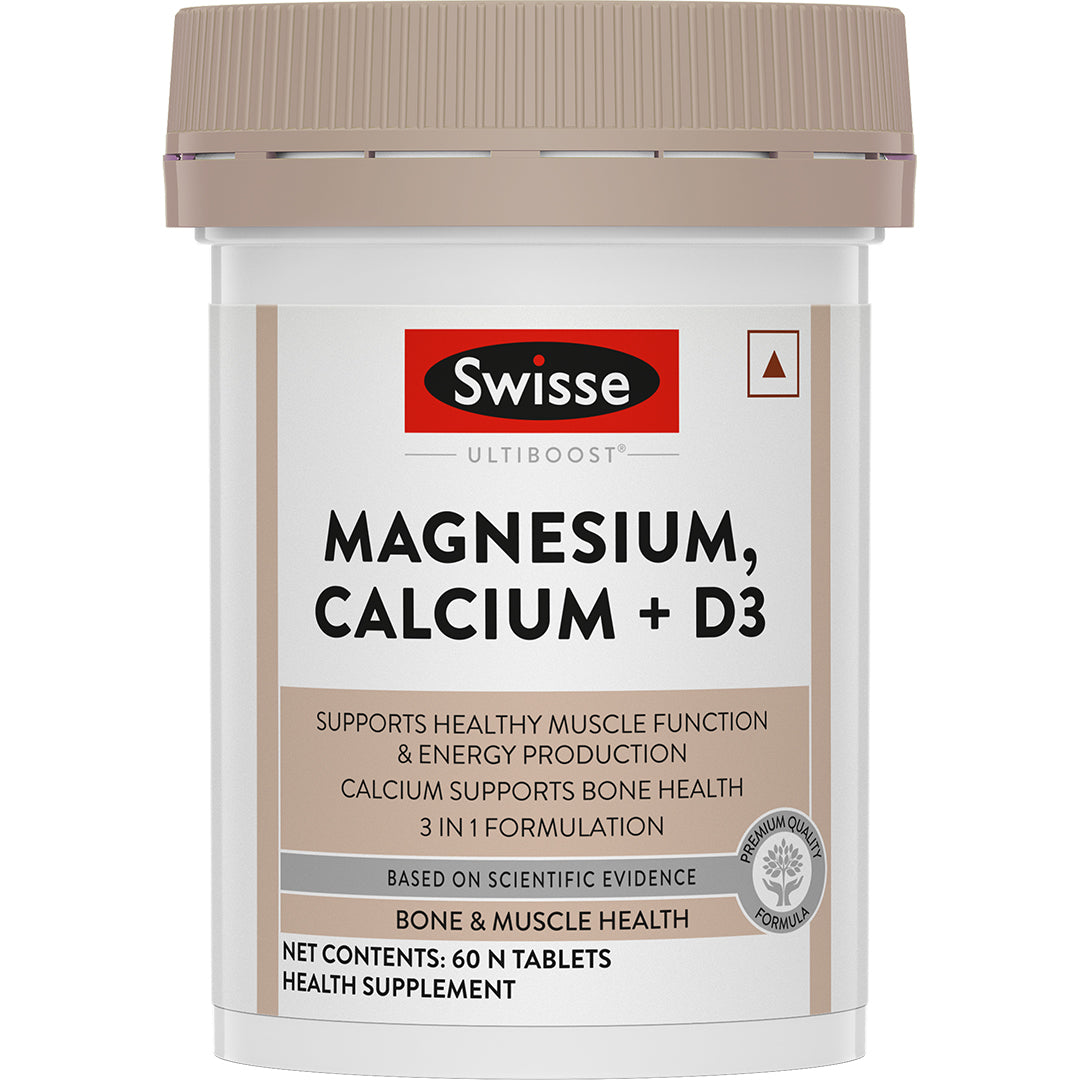 Swisse Magnesium, Calcium & Vitamin D
( Magnesium, Calcium & Vitamin D3 Combination | 60 Tablets )
MRP: ₹ 1,399 ₹ 839
You Save : ₹ 560