50+ Years Heritage

100% Authentic

Australia's No. 1
Multivitamin Brand

Secure Payments
Iron:

Boosts hemoglobin and blood health.

Vitamin C:

The vitamin C in Swisse iron tablets helps the body absorb iron while also helping to maintain healthy immune system functions

Vitamin B6:

Vitamin B6 in Swisse iron tablets helps in the creation of red blood cells and neurotransmitters.

Vitamin B12:

Vitamin B12 in these iron tablets helps keep the nerve and blood cells healthy, also adds to the overall well-being.

Adult Dosage:

One tablet of iron daily, during, or immediately after a meal, or as directed by your healthcare professional.

Storage:

Store below 30° Celsius. Don't use it if the bottle's seal is broken.
Read More
How To Use
One tablet daily, during or immediately after a meal
Frequently Asked Questions
When to take iron tablets?

Iron is best absorbed when taken on an empty stomach, with water. However, to lessen the possibility of stomach upset, iron may be taken with food or immediately after meals.

When to stop taking iron tablets in pregnancy?

Having sufficient amount of iron during pregnancy is very important as iron helps the body to meet the new demands of extra blood volume, the developing placenta, and growing fetus. If daily iron needs cannot be met through diet, iron supplements can be taken after consulting a healthcare professional.

Can i take folic acid and iron tablets together?

Yes, if your body has a deficiency of iron and folic acid, and you are not able to get sufficient amount of nutrients from your daily diet, both supplements can be taken together, after consulting a healthcare professional.

What are the side effects of iron tablets?

Constipation and diarrhoea are common side effects of taking iron tablets.
Backed By Science

Free From Harsh Chemical

Tested For Evidence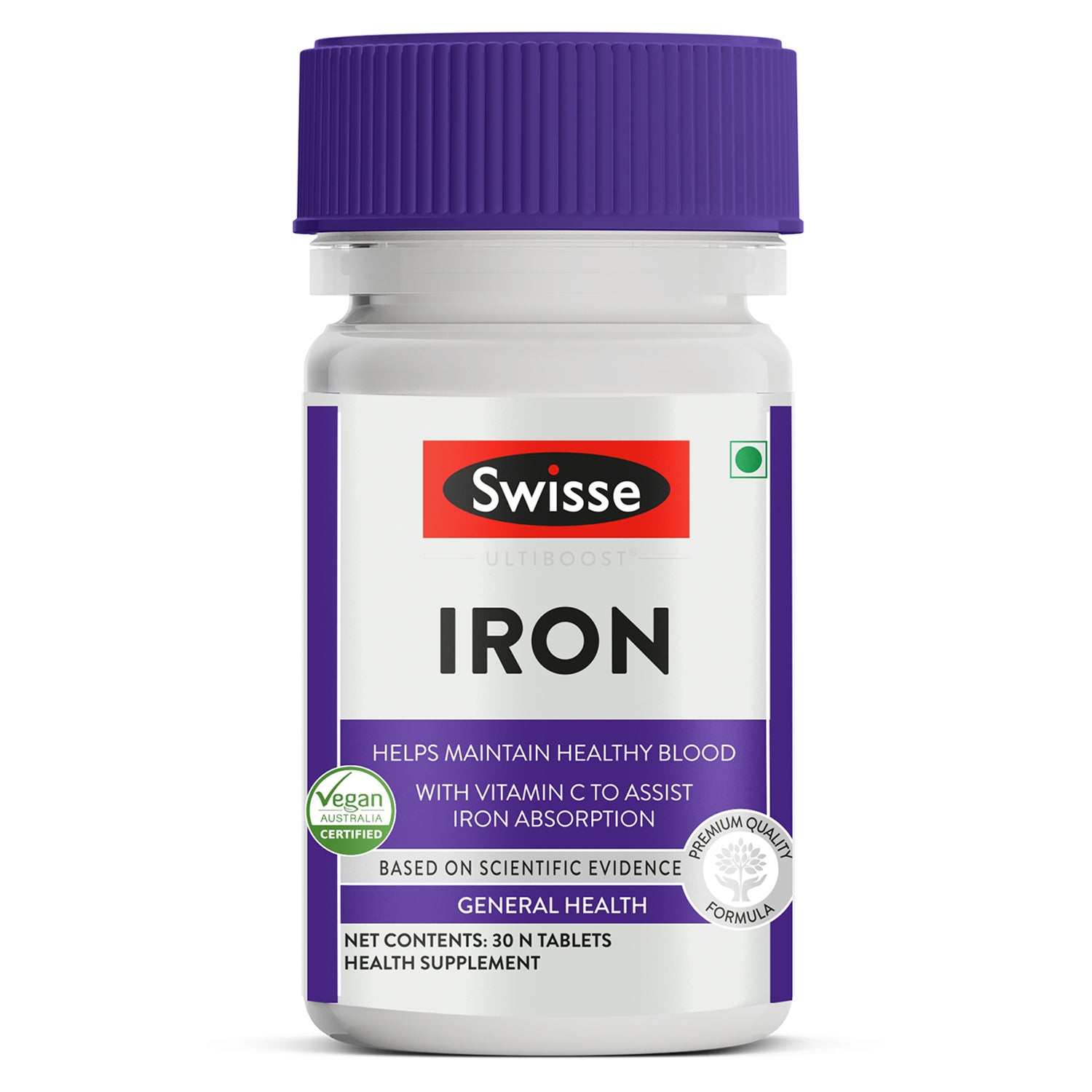 Swisse Iron Tablets
( High Absorption Iron With Vitamin C, Vitamin B6 & Vitamin B12 | 30 Tablets )
MRP: ₹ 949 ₹ 569
You Save : ₹ 380