50+ Years Heritage

100% Authentic

Australia's No. 1
Multivitamin Brand

Secure Payments
Swisse Glucosamine Sulfate+ is a comprehensive blend of premium quality ingredients from western science & traditional Indian medicine. These ingredients are carefully selected for their anti-inflammatory properties and their ability to support joint mobility. 
Benefits of Glucosamine Sulfate+
Supports healthy knee, joint health & mobility
Helps relieve mild joint pain
Reduces inflammation
Provides mild osteoarthritis symptom relief
Mild Osteoarthritis Symptom Relief: Glucosamine sulfate helps relieve symptoms of mild osteoarthritis of the knee such as mild joint pain and inflammation. 
Joint Pain & Swelling Relief: Turmeric is traditionally used in Western herbal medicine to help relieve mild joint pain and swelling. 
Joint Health & Mobility: Glucosamine sulfate supports joint health, mobility and flexibility by relieving mild joint stiffness. 
Joint Cartilage Health: Glucosamine helps reduce damage to cartilage - the connective tissue that cushions joints and supports joint cartilage health. 
Antioxidant: Turmeric provides antioxidants that help reduce free radical damage to body cells and supports general health & wellbeing. 
Ingredients
Glucosamine: Glucosamine is a compound naturally found in the body, particularly in joint cartilage. It plays a vital role in maintaining joint health and promoting the production of connective tissues. As we age or experience conditions like osteoarthritis, the body's ability to produce sufficient glucosamine may decrease. Supplementation with glucosamine has been shown to support joint mobility and reduce joint pain.
Turmeric: Curcuma longa, commonly known as turmeric, is a well-known spice and herb with a long history of traditional use in Ayurvedic and other traditional medicine systems. Turmeric is a potent natural anti-inflammatory herb known for its active compound, curcumin. Curcumin possesses strong antioxidant properties and has been studied for its potential to reduce joint inflammation and pain. This supplement is enriched with 25 mg of Curcuma longa extract
· MSM (Methylsulfonylmethane): MSM is a naturally occurring compound that contains sulfur, an essential element for the formation of connective tissues. By providing sulfur, MSM supports the
production of healthy connective tissues, which are crucial for maintaining joint structure and function. It also possesses anti-inflammatory properties, helping to alleviate mild joint pain and stiffness.
Read More
How To Use
One tablet daily, during or immediately after a meal, or as directed by a healthcare professional
Backed By Science

Free From Harsh Chemical

Tested For Evidence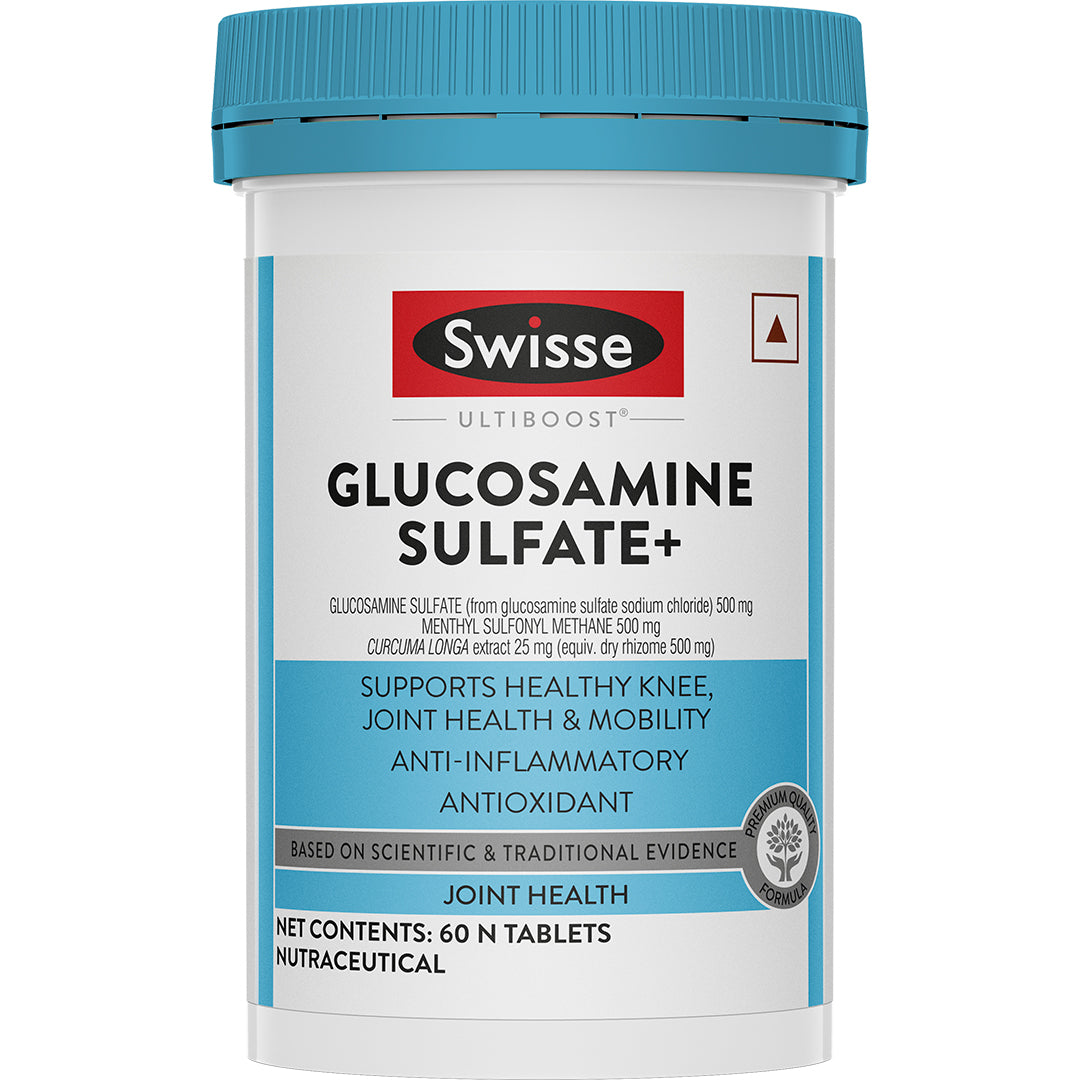 Swisse Glucosamine Sulfate+
( ( Joint Health Supplement With Glucosamine Sulfate(500mg), Menthyl Sulfonyl Methane(500mg) & Curcuma Longa Extract 25mg | 60 Tablets) )
MRP: ₹ 1,899 ₹ 1,139
You Save : ₹ 760