50+ Years Heritage

100% Authentic

Australia's No. 1
Multivitamin Brand

Secure Payments
Swisse Fish Oil Omega 3:
Natural Source of Omega-3 - The body cannot produce omega-3 fatty acids, so they must be obtained from diet. This formula is a natural source of omega-3 fatty acids to support general health & wellbeing
Heart and Cardiovascular Health - Omega-3 fatty acids support a healthy heart and cardiovascular system. EPA & DHA also help maintain normal blood pressure and triglyceride levels in healthy individuals
Brain and Nervous System Health - DHA helps support brain and cognitive health, as well as helps to maintain the structure of a healthy nervous system. The nervous system is the communication centre responsible for sending messages around the body
Reduced Triglycerides Level

 

- Triglycerides are fat lipids found in blood, high triglycerides lead to higher risk of heart disease, stroke, obesity & metabolism syndrome. Daily consumption of fish oil omega regularly for a month reduces triglycerides level by 20-30%  
Anti-inflammatory & Joint Health - Omega-3 fatty acids have inflammatory properties. Studies show that fish oil may assist with the symptomatic relief of mild arthritis such as joint pain and inflammation
Eye Health - High concentrations of DHA are found in the retina of the eye. DHA helps maintain normal vision and eye health
Healthy Mood Balance - Fish oil helps support healthy mood balance
Swisse Magnesium:
Muscle Function: Magnesium 

tablets

contribute to healthy muscle function.

Energy & Metabolism: Magnesium tablets help the human body metabolize nutrients into energy.

Nervous System: Daily intake of magnesium 

tablets

help support a healthy nervous system.
Stress Relief Immunity: Magnesium 

tablets

help reduce stress and increase energy to boost immunity

ADULT DOSAGE: Take one tablet of this magnesium supplement during or immediately after a meal daily, or as directed by your healthcare professional. This is a Vegan/ Vegetarian product.
Read More
How To Use
One tablet daily, during or immediately after a meal, or as directed by a healthcare professional
Backed By Science

Free From Harsh Chemical

Tested For Evidence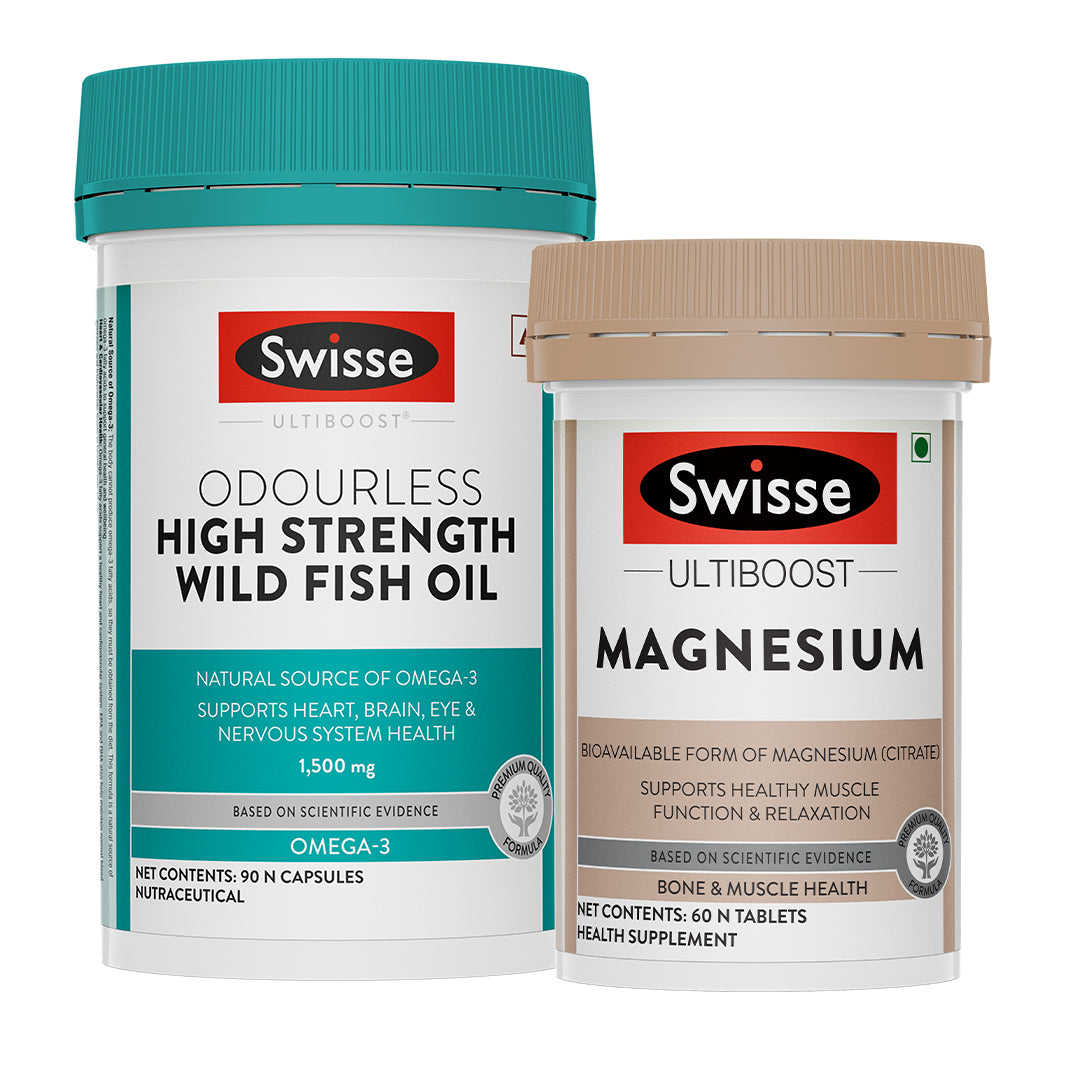 Swisse Fish Oil Omega 3 - 1500mg (90 Tablets) & Magnesium (60 Tablets) Combo
MRP: ₹ 2,548 ₹ 1,529
You Save : ₹ 1,019