50+ Years Heritage

100% Authentic

Australia's No. 1
Multivitamin Brand

Secure Payments
Formulation

These high strength cranberry capsules contain unique powered Pacran, a powdered form of the cranberry fruit that ensures every part of the fruit is used.

Powerful Antioxidant

Daily intake of these cranberry capsules help fight free-radical damage to cells through the presence of flavanols, which have antioxidant properties.

Anti-Adhesion

These capsules assist in reducing bacterial adhesion to the Urinary Tract.
Adult Dosage: Take one capsule daily from these cranberry supplements during/immediately after a meal, or as directed by your healthcare professional.

Warning

If you have any concerns or questions regarding consumption of cranberry pills, ask the advice of a healthcare professional to determine if this is the right health supplement for you.
Read More
How To Use
One capsule daily, during or immediately after a meal, or as directed by a healthcare professional
Frequently Asked Questions
How to cure pcos permanently?

There is no permanent cure for PCOS. However, by managing your lifestyle and decreasing chronic inflammation in the body it is possible to control the symptoms of PCOS in the long term.

What are the first signs of pcos?

PCOS can develop during the early ages of puberty or later as well. The first signs of PCOS could be missed periods, sudden weight gain around the lower belly.

What is pcod?

Poly cystic ovarian disease now commonly called PCOS is a metabolic disorder. It is also sometimes referred to as diabetes of the ovaries. This can lead to abnormal periods, facial hair growth, insulin resistance in body and hormonal imbalance

What is pcod problem?

PCOD is a metabolic disorder and hormonal disorder that can lead to abnormal periods, increased facial hair due to high testosterone & weight gain. The most common way is to diagnose it by getting blood work and an ultrasound to check the unmatured follicles on the ovaries.

What is urinary tract infection?

A urinary tract infection includes any infection in the kidneys, ureters, bladder and urethra. This is usually caused by Escherichia coli

How to treat urinary tract infection?

Usually, a ph stabilizer or antibiotics can help treat UTIs. Cranberry has also been proven to help treat recurring UTIs effectively.

is urinary tract infection dangerous?

No, but if it moves to the kidneys, it becomes serious and needs to be treated by a medical professional
Backed By Science

Free From Harsh Chemical

Tested For Evidence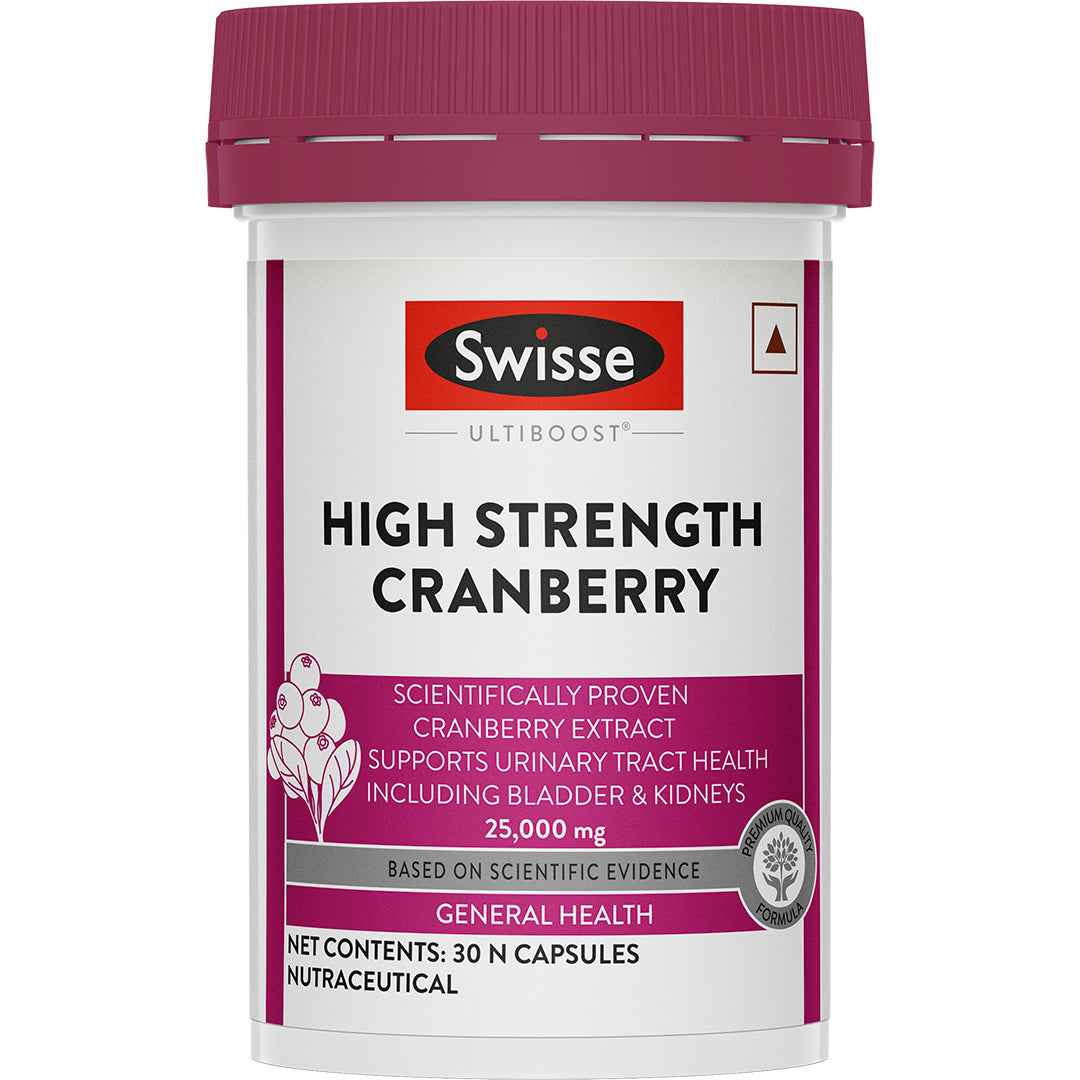 Swisse High Strength Cranberry
( 2500mg High Strength Cranberry Extract | 30 Capsules )
MRP: ₹ 1,299 ₹ 974
You Save : ₹ 325