Heavy metals tested

No added gluten

Australia's No. 1
Multivitamin Brand

Mercury tested

Sourced Sustainably
Anti-oxidant support:

Co-Enzyme Q10 (CoQ10) supplement helps improve cardiovascular health and helps with anti-oxidant activity in the heart. Q10 provides antioxidant support to protect cell membranes against free radical damage and may help regenerate vitamin E.

Cellular Energy Protection:

Q10 has been formulated based on scientific evidence to provide a convenient one-a-day dose. The CoEnzyme Q10 supplement plays a vital role in the body's cellular energy production processes. The need for the Q10 enzyme in the elderly is higher than in normal adults as the enzyme production in the body reduces with age.

Adult Dosage:

One tablet daily - immediately after or during a meal, or as recommended by your healthcare professional. Don't exceed the recommended everyday usage.

Storage:

Do not use the cap seal if it is broken. Store below 25° C.
Read More
How To Use
One tablet daily, during or immediately after a meal
Frequently Asked Questions
What is coq10 used for?

Coenzyme Q10, also called coq10, is a compound made by your body and stored in the mitochondria of your cells. It can help decrease inflammation in your body It is a powerful antioxidant that can help improve your heart health.

are coq10 supplements safe?

Yes, CoQ10 supplements are completely safe.

will coq10 lower blood pressure?

Yes, there's some research that proves that Coenzyme Q10 can help lower blood pressure.

are coq10 and omega 3 the same?

No, CoQ10 and omega 3 are very different. Omega 3 is a fatty acid that is found in sources like flax seeds, nuts and oils. Alpha-linolenic acid is one of the most common types of omega 3. Both omega 3 and CoQ10 are good for heart health.
Backed By Science

Free From Harsh Chemical

Tested For Evidence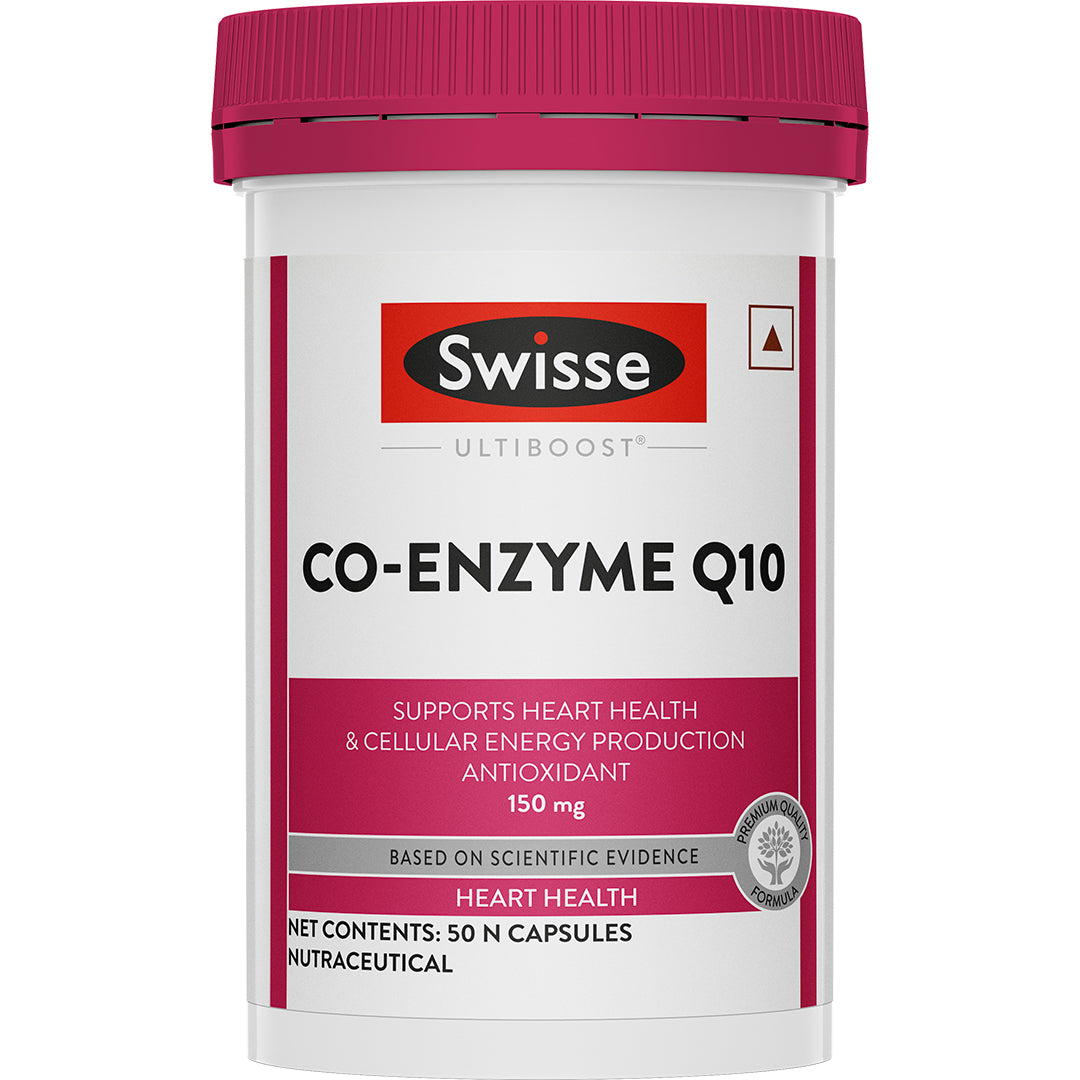 Swisse CoQ10 Supplement
( High Strength 150mg CoQ10 For High Absorption | 50 Capsules )
MRP: ₹ 1,899 ₹ 1,139
You Save : ₹ 760