50+ Years Heritage

100% Authentic

Australia's No. 1
Multivitamin Brand

Secure Payments
Swisse Biotin+ Biotin Tablets:

Why Biotin? Biotin, also known as Vitamin H or B7, is a water-soluble B-vitamin involved in a wide range of metabolic processes, primarily related to the breaking down of fats, carbohydrates, and amino acids. Water-soluble vitamins are not stored in the body, so a daily intake is necessary to avoid deficiencies. Biotin deficiency may cause hair thinning, skin issues & fatigue. Brittle nails, skin irritations, hair loss, are common symptoms of Biotin deficiency and can be treated by supplementation.
Recommended Dosage: Daily intake of Biotin is suggested to maintain immunity and skin, hair, and nail health. Swisse Beauty Biotin+ tablets contain the recommended dosage of Biotin and Nicotinamide, Vitamin C, Rose Hip Extract, Chamomile & Zinc. The Biotin+ tablets help in the energy production & formation of fatty acids that nourish skin, hair & nails.  
For Skin, Nails, and Hair Health: Here are some of the benefits of using Biotin: repairs dull skin, repairs brittle nails and make them grow stronger, voluminous & lustrous, thick hair, delays skin aging, makes you look younger and boosts metabolism.
Premium Quality Ingredients for Overall health: Along with Biotin, the presence of Nicotinamide, boosts keratin levels (a protein found in hair, skin, nails) and reduces inflammation, Rose Hip Extract helps fight free radicals, boosts collagen & moisturizes skin, Vitamin C, helps maintain the health and formation of collagen and reduce free radical damage to body cells. Chamomile has nerve soothing & anti-inflammatory properties, and Zinc supports hair cells growth & repair. In addition, the tablets are formulated with iron and milk thistle extract.
Adult Dosage:

 

One tablet daily during or immediately after a meal or as directed by a healthcare professional. Not to exceed the recommended daily usage. Use the product in continuation for at least 30 days for effective result.
Swisse Collagen Powder:

Great Source of collagen:

 

Collagen makes up about 70-80% of the skin & these levels begin to decline as one age, starting from the 20's. Swisse Beauty Collagen Glow Powder is specially formulated with Hydrolysed Collagen peptides from type I and III collagen, that helps enhance skin elasticity, repairing visible fine likes and wrinkles. Every 3gm (scoop) of collagen powder contains 1000.mg of hydrolysed marine collagen. The Vitamin C from Ascorbic Acid, helps with faster formation & absorption of collagen.
Hydrolysed marine powder, made with premium ingredients:

 

High quality collagen powders are hydrolysed, and are easier for our bodies to absorb. Hydrolysed marine collagen is a marine collagen that has undergone hydrolysis - a clean enzymatic process that breaks collagen to more digestible collagen peptides. Since marine collagen consists of these smaller peptides, it has superior bioavailability & more effective than other types of collagen. Our collagen is sourced from grass-fed, pasture-raised bovine hide and wild-caught fish scales.
Skin health:

 

Hydrolysed marine

 

Collagen stimulates natural collagen production. It helps improve skin elasticity, reduces wrinkles, fine lines & delays ageing of skin, making it the best anti-aging supplement. Vit-C acts as an antioxidant & helps ward off free radical damage to skin making it radiant & younger looking.
Joint, Nail & Hair : Swisse Beauty Collagen glow powder is made with actual Hydrolysed Marine Collagen, Vit C,E & Grape seed extract with the presence of amino acids glycine, proline, and hydroxyproline

, unlike other brands that are only made of collagen builders. The Collagen, antioxidants & Vit C & E, together helps improve hair texture, strengthens hair from roots, making it shiny & strong. 

It also supports stronger nails and improves joint mobility by supporting the regeneration of articular cartilage. Collagen also helps in reducing inflammation in the joints & prevents any damage caused to them.
Delicious natural Pineapple flavour & better value per scoop of collagen powder than its counterparts, Swisse Collagen powder is easy to use & dissolves quickly in water. More value per scoop, contains grape seed extract with other Vitamins & Minerals. Also tastes great when used with smoothies, iced teas, cereal bowl, popsicles or when baked.
Dosage: Using the enclosed scoop, mix one level scoop (6 g) with 250 mL of water or juice. Consume once daily, during or immediately after a meal, or as directed by a healthcare professional. Once dissolved, consume immediately. Some settling of the powder may occur after mixing. Not to exceed recommended daily usage.

If you are pregnant, nursing or lactating women or under specific medical condition, consult your healthcare professional before using the product.
Read More
How To Use
Biotin+: One tablet daily, during or immediately after a meal, or as directed by a healthcare professional
Collagen Glow Powder: 1) Mix one level scoop (6 g) with 250 mL of water or juice 2)Consume once daily, during or immediately after a meal
Backed By Science

Free From Harsh Chemical

Tested For Evidence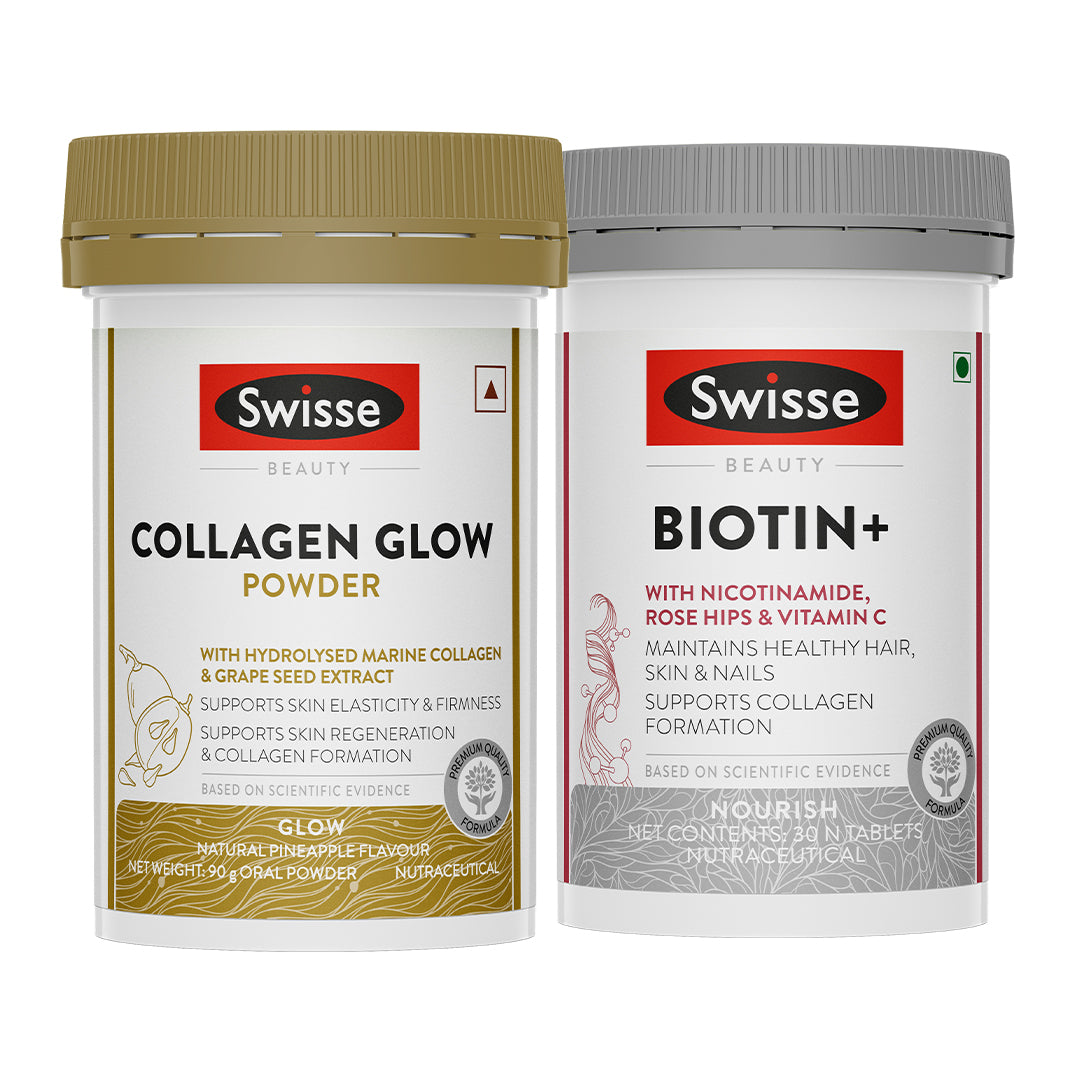 Swisse Collagen Powder & Biotin+ Biotin Tablets (30 Tablets) Combo
MRP: ₹ 2,898 ₹ 1,739
You Save : ₹ 1,159