50+ Years Heritage

100% Authentic

Australia's No. 1
Multivitamin Brand

Secure Payments
Swisse Collagen+ Hyaluronic Acid
Collagen is a major protein found in the dermis of the skin which provides strength and elasticity to your skin. But with age, our body's natural collagen production slows down which causes signs of aging to occur. Swisse Collagen+ Hyaluronic Acid is a premium quality formula with multiple benefits to promote skin health.
Benefits
Improves Skin Elasticity & Reduces Wrinkles' Appearance: Collagen peptides in these collagen capsules supports skin's elasticity and may reduce the appearance of wrinkles and fine lines
Collagen Formation: Collagen is a structural protein that plays a vital role in connective tissue formation for maintaining healthy skin function. Vitamin C in these collagen capsules aid in natural collagen formation and provide antioxidant support.
Hyaluronic acid helps increase skin moisture and helps maintain plump, radiant and hydrated skin
Ingredients
Contains 833 mg of Hydrolysed Collagen in its purest form, combined with Hyaluronic acid to retain moisture in the skin.
The presence of Vitamin C in it helps promote skin glow, collagen production and skin radiance. Vitamin E is a strong antioxidant which helps prevent skin damage from free radicals, thus protecting skin cells from early aging.
Swisse Biotin+ Biotin Tablets:

Why Biotin? Biotin, also known as Vitamin H or B7, is a water-soluble B-vitamin involved in a wide range of metabolic processes, primarily related to the breaking down of fats, carbohydrates, and amino acids. Water-soluble vitamins are not stored in the body, so a daily intake is necessary to avoid deficiencies. Biotin deficiency may cause hair thinning, skin issues & fatigue. Brittle nails, skin irritations, hair loss, are common symptoms of Biotin deficiency and can be treated by supplementation.
Recommended Dosage: Daily intake of Biotin is suggested to maintain immunity and skin, hair, and nail health. Swisse Beauty Biotin+ tablets contain the recommended dosage of Biotin and Nicotinamide, Vitamin C, Rose Hip Extract, Chamomile & Zinc. The Biotin+ tablets help in the energy production & formation of fatty acids that nourish skin, hair & nails.  
For Skin, Nails, and Hair Health: Here are some of the benefits of using Biotin: repairs dull skin, repairs brittle nails and make them grow stronger, voluminous & lustrous, thick hair, delays skin aging, makes you look younger and boosts metabolism.
Premium Quality Ingredients for Overall health: Along with Biotin, the presence of Nicotinamide, boosts keratin levels (a protein found in hair, skin, nails) and reduces inflammation, Rose Hip Extract helps fight free radicals, boosts collagen & moisturizes skin, Vitamin C, helps maintain the health and formation of collagen and reduce free radical damage to body cells. Chamomile has nerve soothing & anti-inflammatory properties, and Zinc supports hair cells growth & repair. In addition, the tablets are formulated with iron and milk thistle extract.
Adult Dosage:

 

One tablet daily during or immediately after a meal or as directed by a healthcare professional. Not to exceed the recommended daily usage. Use the product in continuation for at least 30 days for effective result.
Read More
How To Use
Collagen+ Hyaluronic Acid: One tablet daily during or immediately after a meal or as directed by a healthcare professional. Not to exceed the recommended daily usage. Use the product in continuation for at least 30 days for effective result.
Biotin+: One tablet daily, during or immediately after a meal, or as directed by a healthcare professional
Backed By Science

Free From Harsh Chemical

Tested For Evidence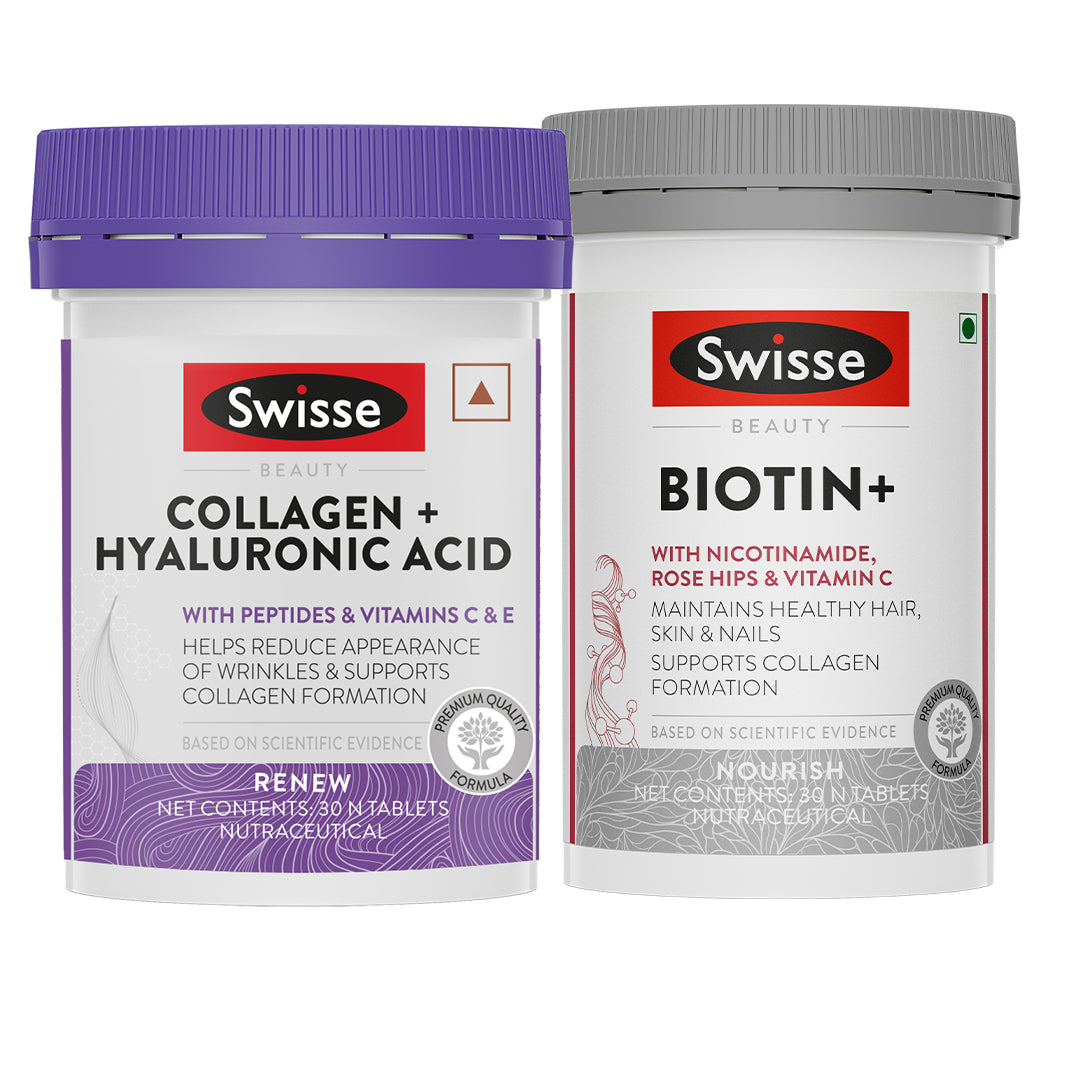 Swisse Collagen+ Hyaluronic Acid & Biotin+ Biotin Tablets (30 Tablets) Combo
MRP: ₹ 2,248 ₹ 1,349
You Save : ₹ 899