Swisse 4X Fish Oil Omega 3 (60 Tablets) & Swisse Multivitamin for Women 60 Tablets Combo
Heart & Brain Health
Lowers Triglycerides
Joint Health
Eye Health
Concentrated Formula
Improves Mental Alertness
Support Energy Production
Increases Stamina
Boosts Vitality
Strengthens Immunity
36% OFF!
(MRP Incl. of all taxes )
---
50+ Years Heritage

100% Authentic

Australia's No. 1
Multivitamin Brand

Secure Payments
Swisse 4X Fish Oil Omega 3:
Contains High-potency Omega 3 fatty acids: Improve general health and reduce joint pain, with 4 times higher concentration of Omega-3 fatty acids. Each capsule contains 4 times more EPA (720 mg) and DHA (486 mg) than a standard 1,000mg fish oil capsule.
Supports during Pregnancy: Along with its anti-inflammatory and joint-health properties, fish oil supplements support the development of a healthy baby, as the developing fetus relies solely on the mother for the supply of Omega-3. Maternal DHA intake contributes to the normal brain and eye development of the fetus and breastfed infants.
Reduced Triglycerides Level : Triglycerides are fat lipids found in blood, high triglycerides lead to higher risk of heart disease, stroke, obesity & metabolism syndrome. Daily consumption of fish oil omega regularly for a month reduces triglycerides level by 20-30% .
Storage: Don't use the cap if the seal is broken. Store below 25° C, away from sunlight.
Swisse Multivitamin For Women:
Contains 36 Essential Nutrients: Packed with minerals, antioxidants, and herbs along with 36 vital ingredients such as Vitamin B complex- B6, B12, Vitamin C, and Vitamin E, these multivitamin capsules can help support your brain, skin, hair, nails, energy, and overall health.
Multivitamin Tablets for Women: These multivitamin supplements have been formulated keeping the specific need of women's health in mind such help fill in nutritional gaps, supports general well-being, boosting stamina, vitality, mental alertness, and immune health.
Storage: Store in a cool, dry place away from sunlight below 25°C. Do not use the cap seal if it is broken.
Caution: Use in children under 12 years is not recommended. Do not use it if pregnant or likely to become pregnant. Do not use it while breastfeeding. If you have a specific medical condition, consult your healthcare professional before use. Not recommended during hypertension and bleeding disorders.
Read More
How To Use
Women's Multivitamin - Adult Dosage: One tablet daily, during or immediately after a meal, or as directed by a healthcare professional.
4X Fish Oil - Adult Dosage: One tablet of 4X Strength Wild Fish Oil daily immediately after or during a meal, or as recommended by your healthcare professional. Those needing to improve Triglyceride levels can take two tablets a day. Don't exceed the recommended everyday usage. Pregnant women and breastfeeding mothers can take two capsules a day.
Backed By Science

Free From Harsh Chemical

Tested For Evidence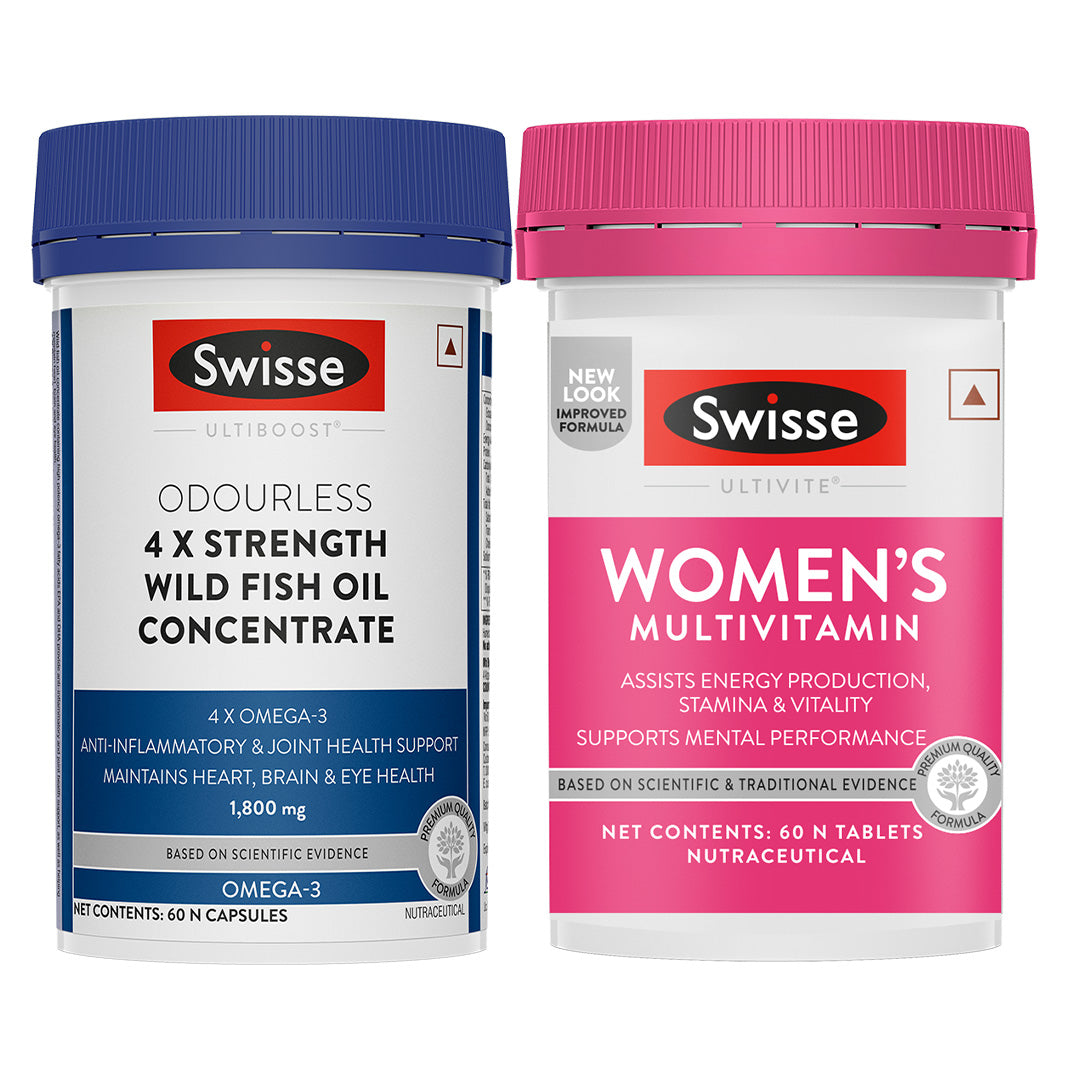 Swisse 4X Fish Oil Omega 3 (60 Tablets) & Swisse Multivitamin for Women 60 Tablets Combo
MRP: ₹ 4,798 ₹ 3,071
You Save : ₹ 1,727