50+ Years Heritage

100% Authentic

Australia's No. 1
Multivitamin Brand

Secure Payments
FULFILLS BIOTIN DEFICIENCY: Biotin (Vitamin H or B7) is a water-soluble B-vitamin involved in a wide range of metabolic processes, like breaking down of fats, carbohydrates, and amino acids. Water-soluble vitamins are not stored in the body, so a daily intake is necessary. Biotin deficiency may cause hair thinning, skin issues, brittle nails & fatigue, which can be treated by supplementation.
PROMOTES HEALTHY HAIR, SKIN & NAILS: One of the leading reasons of hair fall or hair loss is lack of a proper nutritional diet. Daily intake of Biotin is suggested to maintain hair, skin and nail health. It repairs dull skin, repairs brittle nails and make hair grow stronger, voluminous & lustrous. They also support energy and immune health.
GREAT TASTING NATURAL STRAWBERRY FLAVOUR: A delicious strawberry flavour make these chewable gummies a fun treat which you will want to have daily.
PREMIUM FORMULATION AND INGREDIENTS: Formulated with other vital nutrients like vitamins B12, C & E – these Biotin Gummies contain no added sugar and are 100% Vegan.
RECOMMENDED USAGE - Chew 1 gummy daily, during or immediately after a meal, or as directed by a healthcare professional.
Manufactured in India
ABOUT SWISSE ME: We create convenient nutrition and beauty solutions for busy people. Our range of tasty and healthy supplements are perfect for life on-the-go with natural ingredients and scientifically proven formulations. We do the research, so you don't have to.
Read More
How To Use
One tablet daily, during or immediately after a meal
Frequently Asked Questions
What is biotin?

Biotin is also known as vitamin H is a water-soluble vitamin. Biotin (vitamin B7) is a vitamin found in foods like eggs, milk, and bananas. Biotin is not stored in the body, and its deficiency can lead to hair fall

What is biotin used for?

The human body requires biotin to process fats and carbohydrates. Biotin supplements also support healthy nails, skin and good hair quality.

Does biotin regrow hair?

No, there is no research to support the claim that biotin helps with regrowth

Does biotin have side effects?

No, there are no known side effects of biotin.

Does biotin contain vitamin b12?

No, biotin is Vitamin B7 and does not contain B12
Backed By Science

Free From Harsh Chemical

Tested For Evidence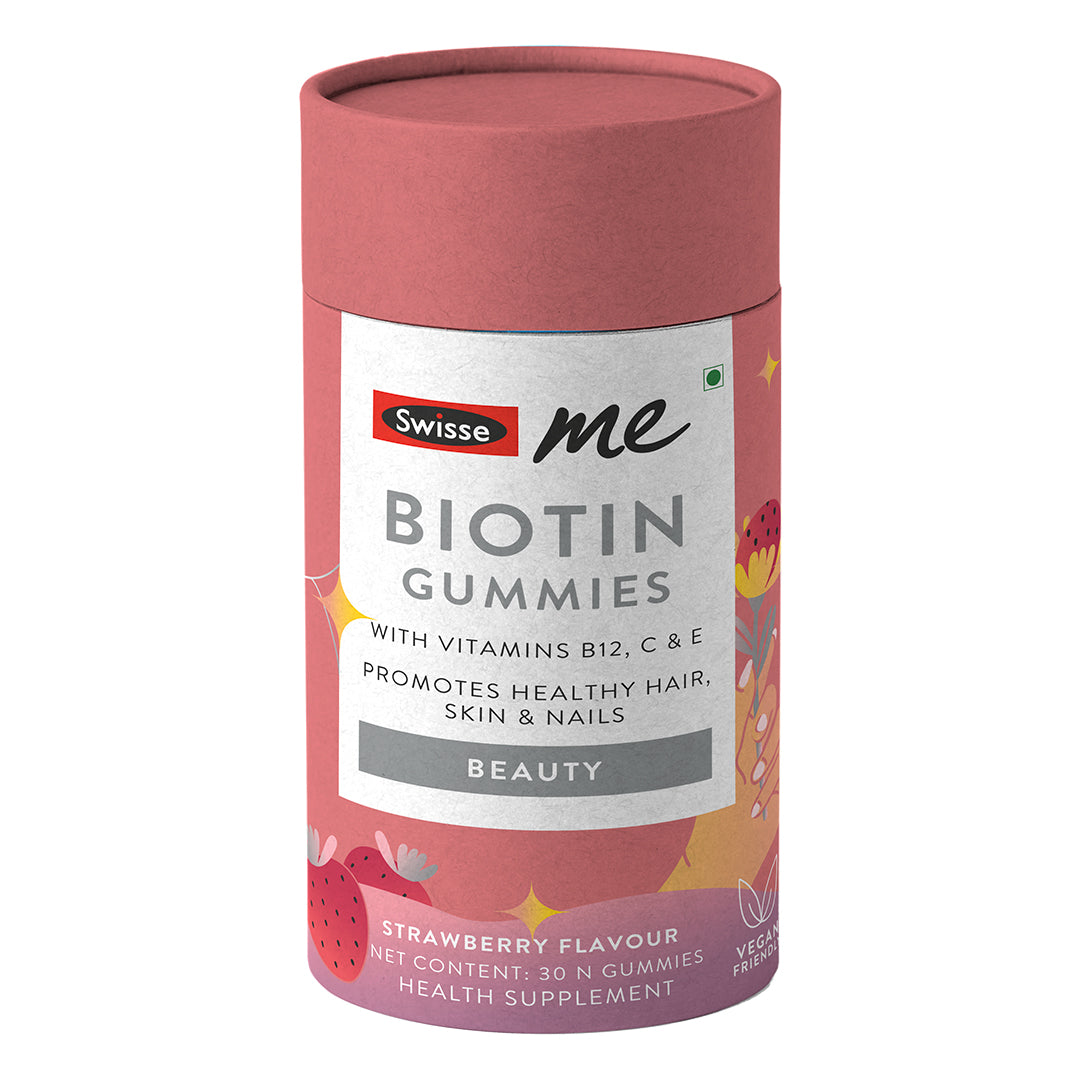 SwisseMe Biotin Gummies
( Biotin With Vitamin B12, Vitamin C & Vitamin E )
MRP: ₹ 799 ₹ 400
You Save : ₹ 399