50+ Years Heritage

100% Authentic

Australia's No. 1
Multivitamin Brand

Secure Payments
SwisseMe Kids Multivitamin Gummies are a premium quality, comprehensive formula containing important vitamins and minerals including vitamins C and D, zinc, iodine, folic acid & magnesium.
Made with natural colors and flavors and no artificial sweeteners, these great-tasting gummies are ideal for fussy eaters and growing children on the go.
Why SwisseMe Kids multi gummies are best for your child?
Enriched with essential multivitamins to bridge the nutritional gap
Supports child's healthy growth & development
Unlike syrups & tablets, there is no foul smell or taste!
Natural strawberry flavored gummies
100% vegetarian | No added gelatin
No side effects
Read More
How To Use
RECOMMENDED USAGE – FOR 5-12 YEARS: One Gummy daily during or immediately after a meal, or as directed by a healthcare professional. Not to exceed the recommended daily usage
Frequently Asked Questions
Do kids need multivitamins?

fat, protein, carbohydrates, vitamins and minerals to grow. But young children who are picky eaters and don't get enough nutrients through food can be given multivitamins to ensure their body's requirements are met.

Are multivitamins good for kids?

Low levels of vitamin D in the diet. A delay in physical and developmental growth. A chronic disease.A limited or restrictive diet.

Are multivitamin for kids safe?

Yes, high quality multivitamins are safe and can be prescribed for your child after consulting a healthcare professional.
Backed By Science

Free From Harsh Chemical

Tested For Evidence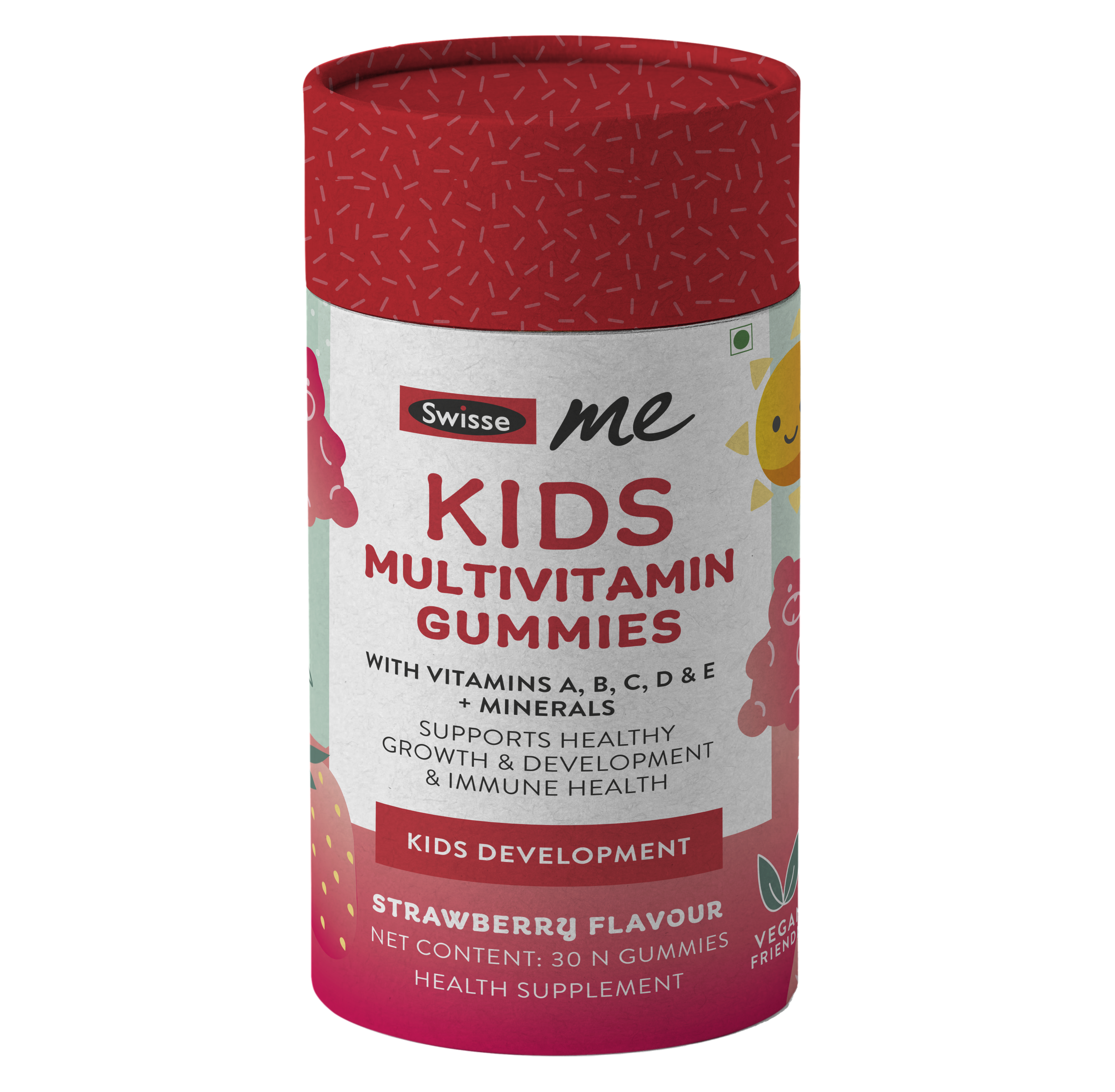 SwisseMe Kids Multivitamin Gummies
( Contains Vitamin A, B, C, D, E, Zinc, Magnesium & Essential Mineral | Yummy Strawberry Flavour, 30 Gummies )
MRP: ₹ 799 ₹ 479
You Save : ₹ 320