Swisse 4X Fish Oil Omega 3 (60 Tablets) & Swisse Multivitamin For Men 60 Tablets Combo
Heart & Brain Health
Lowers Triglycerides
Joint Health
Eye Health
Concentrated Formula
Improves Mental Alertness
Support Energy Production
Increases Stamina
Boosts Vitality
Strengthens Immunity
36% OFF!
(MRP Incl. of all taxes )
---
50+ Years Heritage

100% Authentic

Australia's No. 1
Multivitamin Brand

Secure Payments
Swisse 4X Fish Oil Omega 3:
Contains High-potency Omega 3 fatty acids: Improve general health and reduce joint pain, with 4 times higher concentration of Omega-3 fatty acids. Each capsule contains 4 times more EPA (720 mg) and DHA (486 mg) than a standard 1,000mg fish oil capsule.
Supports during Pregnancy: Along with its anti-inflammatory and joint-health properties, fish oil supplements support the development of a healthy baby, as the developing fetus relies solely on the mother for the supply of Omega-3. Maternal DHA intake contributes to the normal brain and eye development of the fetus and breastfed infants.
Reduced Triglycerides Level : Triglycerides are fat lipids found in blood, high triglycerides lead to higher risk of heart disease, stroke, obesity & metabolism syndrome. Daily consumption of fish oil omega regularly for a month reduces triglycerides level by 20-30% .
Storage: Don't use the cap if the seal is broken. Store below 25° C, away from sunlight.
Swisse Multivitamin For Men:
Contains 36 Essential Nutrients: Packed with minerals, antioxidants, herbs, and several vitamins such as Vitamin B complex- B6, B12, Vitamin C, and Vitamin E, these multivitamin capsules can help support your brain, skin, hair, nails, energy, and overall health.
Multivitamin tablets for men: These multivitamin supplements have been formulated keeping the specific needs of men above the age of 18 years in mind and can help fill in nutritional gaps and support general well-being for a healthy, active lifestyle.
Health benefits: Zinc helps boost the immune system, while Vitamin C, Vitamin E, and citrus bioflavonoids help protect cells from potential free radical damage. They also contain adaptogens to help the body perform optimally during times of stress.
Read More
How To Use
4X Fish Oil - Adult Dosage: One tablet of 4X Strength Wild Fish Oil daily immediately after or during a meal, or as recommended by your healthcare professional. Those needing to improve Triglyceride levels can take two tablets a day. Don't exceed the recommended everyday usage. Pregnant women and breastfeeding mothers can take two capsules a day.
Mens Multivitamin Adult Dosage: One tablet daily, during or immediately after a meal, or as directed by a healthcare professional.
Backed By Science

Free From Harsh Chemical

Tested For Evidence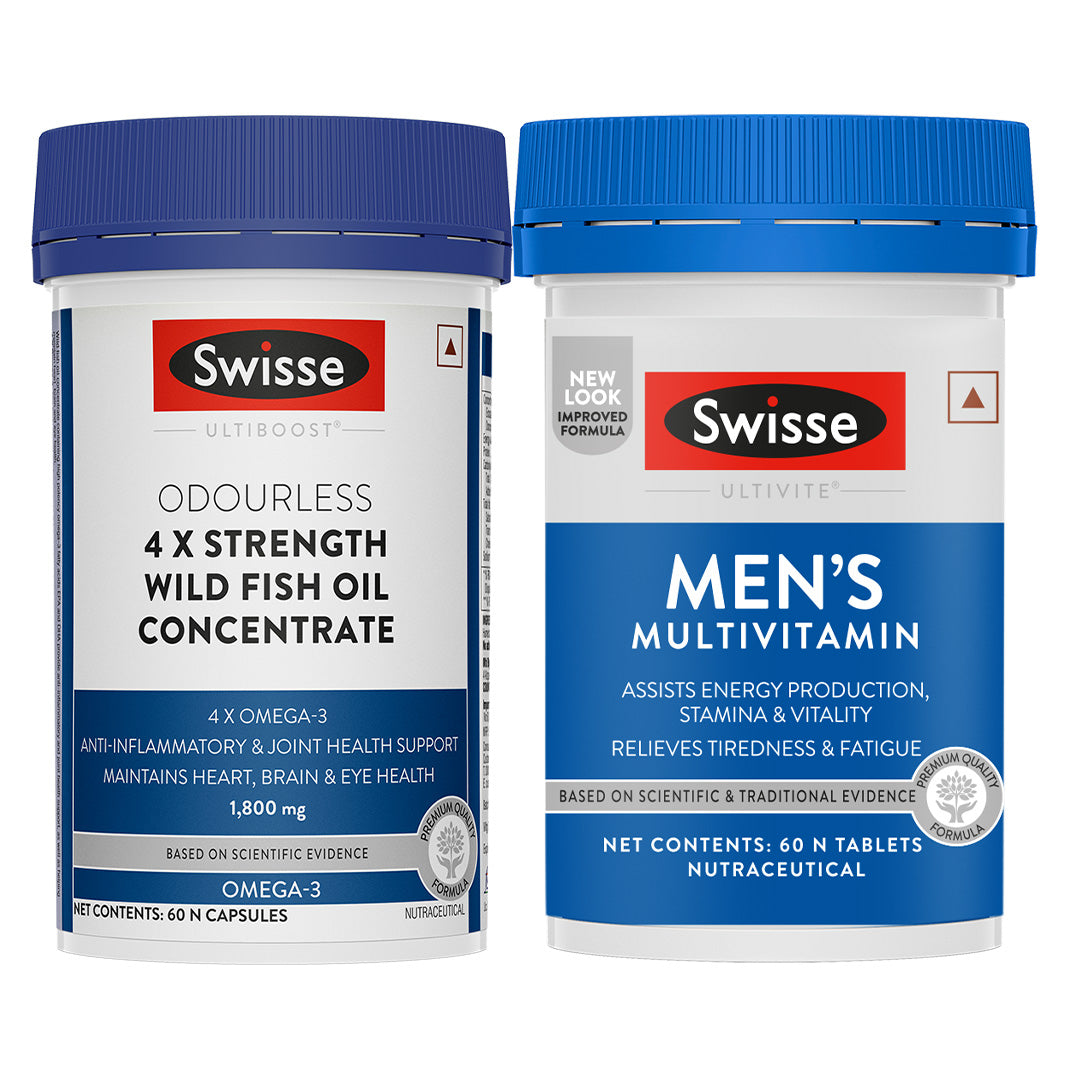 Swisse 4X Fish Oil Omega 3 (60 Tablets) & Swisse Multivitamin For Men 60 Tablets Combo
MRP: ₹ 4,798 ₹ 3,071
You Save : ₹ 1,727